2019 Chocolate Challenge – 5K/10K
Supporting Arteriovenous Malformations (AVM) Research and the Crouse Neuroscience Institute
Saturday, July 27th, 2019 at Sharkey's Liverpool
10K start time: 8:00 AM; all others to follow shortly after.
Participants who register with the TEAMCROUSE code (by July 12) will receive a special Team Crouse Chocolate Challenge shirt!
Crouse Participants who finish the walk/run will pay a reduced price:
$10 for 5K (reduced from $25)
$20 for 10K (reduced from $40)
If you do not complete the race, you will be charged the full cost of the event registration.
There are two steps to register:
1. Click here to register on the Chocolate Challenge website, enter coupon code "TEAMCROUSE" (waives payment requirement on this site). Payment will be coordinated through Crouse and in Step #2 below.
2. Click here to select payment option on internal Crouse site.
QUESTIONS?
Contact Ngoc Pham with any questions you may have. Click here for event details as listed on Chocolate Challenge website.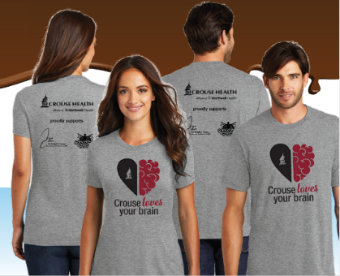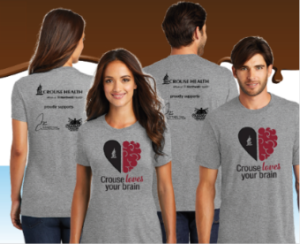 Purchase a "Crouse Loves Your Brain" shirt for $20
Support the Crouse Chocolate Challenge team by purchasing a "Crouse Loves Your Brain" shirt! Click here to order by July 12th.