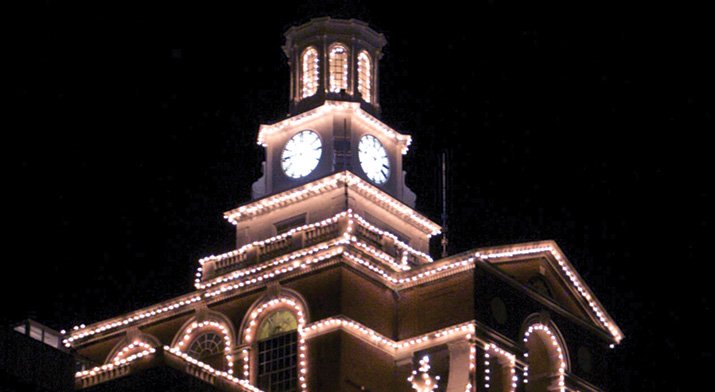 The Crouse Hospital Auxiliary's major fundraiser on behalf of Crouse Health is Lights of Love, an annual endeavor that involves the illumination of the Crouse clock tower in 3,000 white lights — a highly visible symbol of the holiday season in Central New York. The Crouse Hospital Auxiliary remains committed to our organization, our community and this long-standing holiday tradition. This year marks the 34th consecutive season of the popular fundraising campaign.
Lights of Love Lighting Ceremony
Monday, Nov. 29
Each year, donors to the Lights of Love campaign are invited to a special ceremony to light the clock tower in the 3,000 bright lights. Due to the COVID-19 pandemic and restrictions on public gatherings, this year's clock tower lighting ceremony will be different, but just as meaningful as ones held in the past. Donors will be able to participate in this holiday tradition from the comfort of home or office via Zoom.
2021 Campaign Proceeds
Eighteen months into the pandemic, the hospital continues to experience increasing Emergency Department patient volumes, as our community has become more familiar and more comfortable with the safety measures put in place at the beginning of the pandemic. As the "front door" to the hospital, staff continue to see increasing cardiac and stroke related admissions through the Pomeroy Emergency Services Department. Because of this great need, proceeds from this year's Lights of Love campaign will benefit ongoing patient care and safety initiatives for patients and staff, as they continue to monitor and adapt to changing COVID protocols while serving the community with the best emergency services.
2021 Lights of Love Committee
Janet Izzo, Chair
Robin Ascioti
Jeri Gallauresi