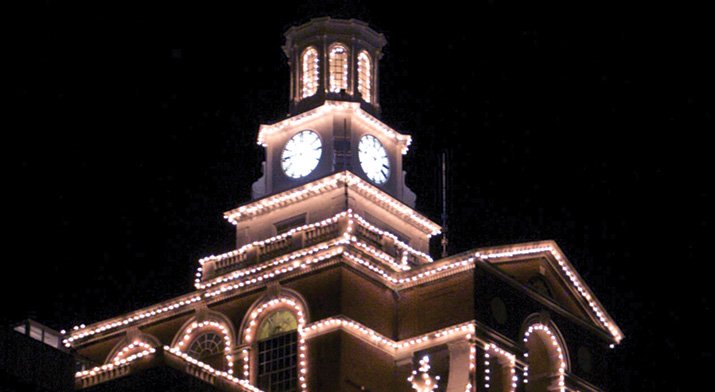 The Crouse Hospital Auxiliary's major fundraiser on behalf of Crouse Health is Lights of Love, an annual endeavor that involves the illumination of the Crouse clock tower in 3,000 white lights — a highly visible symbol of the holiday season in Central New York. The 2018 campaign marks the 31st anniversary of Lights of Love.
Each year proceeds benefit a different Crouse program or service. Proceeds from this year's Lights of Love Campaign will be used to underwrite final touches on the acute care section of the new Pomeroy Emergency Services Department at Crouse Hospital. After more than 30 months of construction, this state-of-the-art facility has been completed and is open to the public. Through thoughtful planning, Crouse has modernized and tripled in size its space dedicated to emergency services; an accomplishment that will greatly benefit patients, families and communities throughout Central and northern New York. All of this would not have been possible without ongoing support from the Crouse Hospital Auxiliary and generous donors to recent annual Lights of Love Campaigns.
Lights of Love Lighting Ceremony

Lights of Love donations may be given in honor of or in memory of a loved one; to wish a speedy recovery to someone: to recognize a birthday or other special event, such as a retirement; as a "thank you" for medical care received at the hospital; as a special holiday gift; or as a friend of Crouse Hospital.
Donors to the Lights of Love campaign are invited to a special ceremony to light the clock tower on Monday, Nov. 26, from 4:30 to 6 p.m. on the 4th floor of the Marley Education Center.
This year's special guest who will illuminate the tower lights is Central New York musician Todd Hobin, who said "Take me to Crouse" last May when his physician suspected he was having a stroke. The Crouse Hospital Auxiliary is honored to have Todd share his time and talent with us during this ceremony to shed light on our community's skyline and Crouse's Comprehensive Stroke Center.
2019 Lights of Love Presenting Sponsor
Bottar Law, PLLC
2019 Lights of Love Sponsors
Carrie Berse, Chris Skeval and family
Kimberly, Charlie and Henry Boynton
Connie Bull
Dell Ford-Jordan
Jeri Gallauresi
Sue LeRoy
Betty O'Connor
The William G. Pomeroy Foundation
2019 Lights of Love Committee
Janet Izzo, Chair
Connie Bull
Jeri Gallauresi