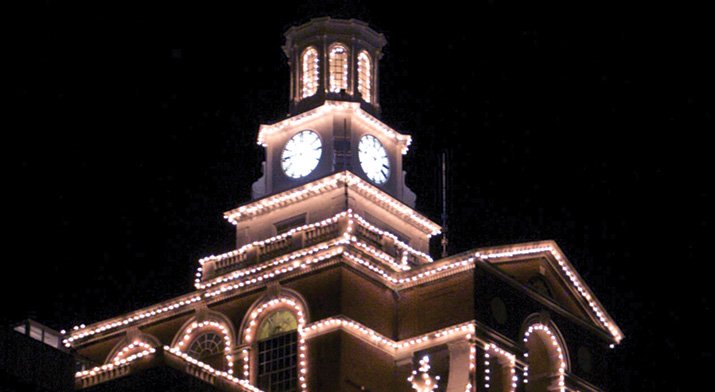 The Crouse Hospital Auxiliary's major fundraiser on behalf of Crouse Health is Lights of Love, an annual endeavor that involves the illumination of the Crouse clock tower in 3,000 white lights — a highly visible symbol of the holiday season in Central New York. The Crouse Hospital Auxiliary remains committed to our organization, our community and this long-standing holiday tradition. This year marks the 33rd consecutive season of the popular fundraising campaign.
PRESENTING SPONSOR
Bottar Law, PLLC
CORPORATE PATRONS
Len DiBello and Maria Scarfino
Hematology-Oncology Associates of CNY
Neonatal Associates of CNY
Kimberly, Charlie and Henry Boynton
William G. Pomeroy Foundation
Connie Bull
Dr. Robert and Maria Dracker
CORPORATE FRIEND
Carrie Berse, Chris Skeval and Family
Cathy J. Berry, MD, and Associates
King + King Architects
Michael and Elizabeth O'Connor
Lights of Love Lighting Ceremony
Monday, Nov. 30
Each year, donors to the Lights of Love campaign are invited to a special ceremony to light the clock tower in the 3,000 bright lights. Due to the COVID-19 pandemic and restrictions on public gatherings, this year's clock tower lighting ceremony was different but just as meaningful as ones held in the past. Donors were able to participate in this holiday tradition from the comfort of home or office via Zoom. To view the presentation, click here.
Small Gestures Touch Everyone
Before COVID-19 changed our world, many of us felt we didn't have the time or energy to extend ourselves to others with small gestures that are at the core of common courtesy. Small gestures extended by physicians, providers and staff comprise the foundation of the Crouse culture. Members of the Crouse family carry with them the elegance and grace of another time, and we are always thankful for our contact with them. The Auxiliary will follow that lead and use proceeds from this year's Lights of Love campaign to fund gestures that are meaningful to our patients and critical for their care, including:
– A fetal monitor for laboring moms in the Kienzle Family Maternity Center
– An intra-aortic balloon pump for heart catheterizations in the Miron Cardiac Care Center
– A portable ultrasound machine to support the patient care efforts of Crouse Health's Comprehensive Stroke Program
2020 Lights of Love Committee
Janet Izzo, Chair
Robin Ascioti
Jeri Gallauresi
Jeffrey Pawlowski