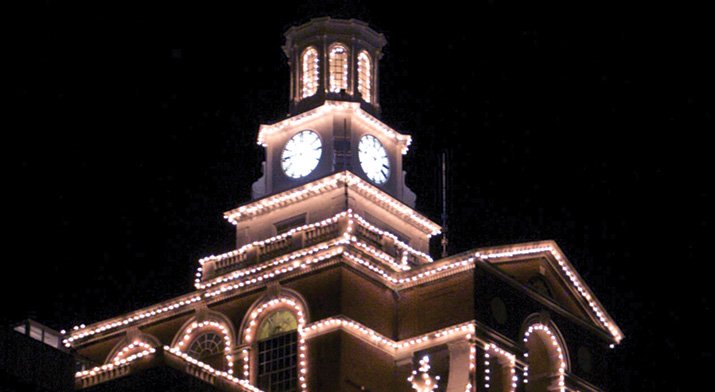 The Crouse Hospital Auxiliary's major fundraiser on behalf of Crouse Health is Lights of Love, an annual endeavor that involves the illumination of the Crouse clock tower in 3,000 white lights — a highly visible symbol of the holiday season in Central New York. The 2019 campaign marks the 32nd anniversary of Lights of Love.
Each year proceeds benefit a different Crouse program or service. Proceeds from this year's Lights of Love Campaign will support the Auxiliary's ongoing commitment to the Pomeroy Emergency Services Department at Crouse Hospital. Auxiliary funds have helped purchase a wide range of equipment, underwrite staff training, and fund special initiatives such as the Geriatric Emergency Department Accreditation (GEDA) received by the department this year. This newly-available recognition in this specialized area of emergency medicine required the addition of geriatric-friendly equipment as well advanced staff education for screening for delirium, dementia and fall risks. GEDA signals to the public that Crouse Health is focused on the highest standards of care for our community's older adults, and the Auxiliary is very proud of its role in making such critical programs possible.
Lights of Love Lighting Ceremony
Donors to the Lights of Love campaign are invited to a special ceremony to light the clock tower on Monday, Dec. 2, from 4:30 to 6 p.m. on the 4th floor of the Marley Education Center. Complimentary parking is available beneath the Marley Education Center.