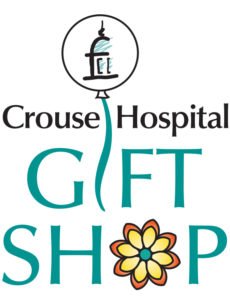 Welcome to the Crouse Hospital Gift Shop. The shop is located adjacent to the Clock Tower Cafe on the basement level of Crouse Hospital, 736 Irving Ave.
Fresh flowers, snacks and a variety of gifts are available.
The Gift Shop phone number is 315-470-7347.
Store Hours
Monday through Friday: 7 a.m. to 7 p.m.
Saturday and Sunday: 10 a.m. to 6 p.m.
The Gift Shop also has a small kiosk in the Crouse Hospital main lobby, which is open Monday through Friday from 9 a.m. to 7 p.m. and Saturday and Sunday 10 a.m. to 4 p.m.
Phone Orders
You may place an order for flowers or gifts by calling the Gift Shop at 315-470-7347. Phone orders are taken Monday through Friday, 8 a.m. to 8 p.m., and weekends anytime the shop is open.
Please note:
If you send a gift to a patient who has been discharged from the hospital, we will notify you by phone or email and reverse all charges to your account.
Latex balloons are not allowed in the hospital due to latex allergies some patients and staff members experience. Mylar balloons are welcome.
Online Orders
Orders can be placed at any time by clicking the link below.