Kimberly Boynton
President and Chief Executive Officer
Seth Kronenberg, MD
Chief Medical Officer and Chief Operating Officer
Kim Rose
Chief Information Officer
Chris Farnum
Vice President, Business Development
Bob Allen
Vice President, Communications and Governmental Affairs
Jeff Tetrault
Vice President, Facilities Management
Rhonda Reader, DNS, RN, CNE, NEA-BC
Vice President, Clinical Services and Nursing Quality
Carolyn Hastings
Vice President, Revenue Cycle Management
Carrie Berse
President, Crouse Health Foundation
Carl Butch, MD
President and Medical Director, Crouse Medical Practice
Sean Fadale
President & CEO, Community Memorial Hospital
Kimberly Boynton
President and Chief Executive Officer
Kimberly Boynton serves as President and Chief Executive Officer of Crouse Health, as well as Vice President of the Crouse Health Foundation. She began her career at Crouse in 1998, and prior to her appointment as CEO in January 2014, had served as Chief Financial Officer since 2003. A graduate of The Franciscan Academy in Syracuse, Boynton holds a Bachelor of Business Administration and Accounting from Niagara University and a Master of Business Administration from Syracuse University's Whitman School of Management. A Syracuse native, she is actively involved in the community, currently serving as president of University Hill Corporation. She is also a member of the board of directors of the Healthcare Association of New York State; Greater New York Hospital Association; Iroquois Healthcare Alliance; Syracuse 20/20; CenterState CEO; SRC, Inc.; AAA of Western and Central New York; and Christian Brothers Academy. She is also a member of the Morrisville State College President's Advisory Council. She previously served as Board President of the United Way of Central New York and Board Treasurer of Catholic Charities, and was a member of the board of directors of Elmcrest Children's Center; American Red Cross; Crouse Hospital Auxiliary; and the McMahon/Ryan Child Advocacy Site. Boynton has received many civic and business accolades, including, the 2016 Zonta Crystal Award; the Women Who Make America Award in 2015; Leadership Greater Syracuse's Alumni Achievement Award in 2014; the 2012 Girl Scouts of America Women of Distinction Honoree; and in 2009, the CFO of the Year Award and the Bernard J. Lawler Leadership Award from Catholic Charities. Boynton resides in Syracuse with her husband, Charles Boynton, a retired Syracuse Fire Department Lieutenant who serves as Men's Hockey Coach at Onondaga Community College, and their son, Henry William.
Seth Kronenberg, MD
Chief Medical Officer and Chief Operating Officer
Seth Kronenberg, MD, serves as Chief Medical Officer and Chief Operating Officer for Crouse Health and maintains leadership responsibility and strategic oversight for all activity related to physician engagement, recruitment and integration of community-based practicing physicians in their relationships with the Crouse care network. Dr. Kronenberg, a board-certified internist and partner with Internist Associates of Central New York, is also the primary Crouse contact for the Crouse-affiliated Health Alliance Physician Organization and other community-based physicians for alignment and integration activities, including network development and population health management initiatives. Dr. Kronenberg joined Internist Associates of Central New York in 2001, becoming managing partner in 2005. In 2010, Internist Associates became part of Crouse Medical Practice, PLLC, and Dr. Kronenberg was appointed medical director. Dr. Kronenberg received his bachelor's degree from the University of Pennsylvania. He attended medical school and did his residency and chief residency in Internal Medicine at Upstate Medical University in Syracuse.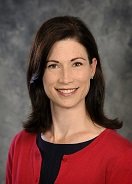 Kim Rose
Chief Information Officer
Kim Rose serves as Chief Information Officer for Crouse Health and its affiliated entities, including Crouse Medical Practice, PLLC, and Community Memorial Hospital in Hamilton. In her role as CIO, Rose works with senior leadership to provide vision and strategic direction in the continued development and implementation of Crouse's system-wide health information technology operations, as well as developing capability to enhance information sharing between Crouse and physicians in the community. Rose has provided leadership and direction to the hospital's Information Technology Department since 2012, overseeing numerous major technology initiatives, including converting the hospital's legacy electronic medical record system to Soarian and replacing the physicians' practice system with Medent. Before joining Crouse Health, she successfully managed information technology in corporate retail and manufacturing industries. Rose holds a bachelor's degree in chemical engineering from Clarkson University and a master's degree in information resource management from Syracuse University. She currently serves on SUNY Oswego's Biomedical Informatics Advisory Board and the Advisory Board of the School of Information Studies at Syracuse University, from which she received the Innovation Alumni Award in 2017.
Chris Farnum
Vice President, Business Development
Chris Farnum is Vice President for Business Development at Crouse Health, responsible for the implementation of physician/hospital joint ventures, the development of business plans relating to new programs and the negotiations of all employed physician contracts. He also has operational responsibilities for the medical imaging, physical therapy, occupational therapy, respiratory care, sleep lab and neurophysiology departments. A fellow of the American College of Healthcare Executives with more than 25 years in healthcare leadership positions, Farnum holds an advanced degree in Public Administration and in Healthcare Administration and Business from Springfield College and Providence College, respectively.
Bob Allen
Vice President, Communications and Governmental Affairs
Bob Allen serves as Vice President of Communications and Governmental Affairs at Crouse Health, a position he has held since June 2007. Prior to that, he served as Director of Communications for the hospital. Allen oversees all marketing communications, media relations, public relations, community relations and governmental affairs functions for the system. He is currently a member of the Society for Healthcare Strategy and Market Development and also serves on the boards of University Hill Corporation and the American Heart Association of CNY. Allen previously served on the Hillside Work-Scholarship Connection Advisory Board; Thursday Morning Roundtable; and WCNY TV24's Community Advisory committee. A graduate of the S.I. Newhouse School of Public Communications at Syracuse University, Allen is also a graduate of Leadership Greater Syracuse. In 2010, he received the Philip A. Hofmann Award for Best News Source from the Syracuse Press Club.
Jeff Tetrault
Vice President, Facilities Management
Jeff Tetrault joined Crouse Health in 2006, serving most recently as Director of Facilities and Construction. He is responsible for the strategic direction, coordination and oversight of numerous facility services and construction projects, and leads the management teams and department staff in the following areas: Engineering, Clinical Engineering, Construction, Grounds, Environmental Services, Nutritional Services, Patient Transport, Materials Management, Duplication & Distribution, Security, Parking and Valet Service. Tetrault earned a Bachelor of Science in Business and Healthcare Administration, and is a Certified Healthcare Facility Manager and Certified Healthcare Constructor. A graduate of Leadership Greater Syracuse, he is affiliated with a number of healthcare organizations and serves on the Town of Hastings Planning Board; Crouse Marshall Business Improvement District Planning Board; University Hill Corporation; and University Hill Public Safety Association.
Rhonda Reader, DNS, RN, CNE, NEA-BC
Vice President, Clinical Services and Nursing Quality
In her role as Vice President of Clinical Services and Nursing Quality, Rhonda Reader also serves as Dean of the Pomeroy College of Nursing at Crouse Hospital. She joined Crouse in 2014, having served in a variety of clinical, faculty and leadership roles at St. Joseph's Health and Oneida Hospital, as well as an adjunct faculty member at Le Moyne College. A graduate of St. Joseph's School of Nursing, Reader holds a Bachelor of Science in Nursing from SUNY College of Technology; a Master of Science in Nursing from Syracuse University; and a Doctorate in Nursing Education and Leadership from The Sage Colleges in Albany. She is a member of the honor society of nursing, Sigma Theta Tau International, and has earned certification as a nurse educator (CNE) and nurse executive (NEA-BC). Reader serves as a member of the evaluation review panel and peer evaluator for the Accreditation Commission for Education in Nursing (ACEN). She is a member of the New York State Board for Nursing, serving in disciplinary hearings to ensure public safety and integrity of the nursing profession. She previously served as a board member for the NYS Council of Associate Degree Nursing and as an advisory board member for the American Nurses Association (ANA) Code of Ethics revision panel.
Carolyn Hastings
Vice President, Revenue Cycle Management
Carolyn Hastings oversees all aspects of the revenue cycle to ensure full reimbursement for the services for the community. This includes patient access, HIM, clinical documentation, billing and collections. She also oversees strategic direction of the Business Office, Health Information Management and Patient Access functions of the organization. Hastings joined Crouse in 1985 and served as Director of Health Information Management from 2002 to 2016. She received a Master's degree in healthcare administration from Ohio University's College of Health Science and Professionals and is a certified Registered Health Information Technician (RHIT). Hastings is also certified in Healthcare Privacy and Security (CHPS). She is an active member of the American Health Information Management Association (AHIMA) and currently serves as an online adjunct professor at Southern New Hampshire University, where she teaches undergraduate and graduate courses in healthcare.
Carrie Berse
President, Crouse Health Foundation
Carrie Berse has thirty-eight years of experience as a fund-raising executive, with thirty-five of those years spent specializing in healthcare. She is currently President of the Crouse Health Foundation, the resource development arm of the Crouse Health System. During her twenty-four years at Crouse, Berse also served as Corporate Vice President for Philanthropy of the Health Alliance of CNY, the former parent corporation for the Central New York health system that featured Crouse and Community General Hospitals. In both positions, Berse has been responsible for the operations of the hospitals' foundations, including the planning and implementation of fund-raising activities such as annual giving, major gifts/planned giving and capital programs; endowment fund oversight; grants writing; special events, communications and development/donor services. Berse is a member of the Association for Fundraising Professionals and is a past Treasurer of the Central New York Chapter. She has taught courses at a variety of development conferences including the Association for Healthcare Philanthropy's Institute for Healthcare Philanthropy at the University of Wisconsin at Madison. She became a Fellow of that organization in 1991 and has maintained the Certified Fund Raising Executive designation of CFRE International for the past thirty years. Berse has a Bachelor of Fine Arts Degree from Adelphi University. She served on the Board of Education for the Jamesville-Dewitt Central School District from 2003 – 2006, and was a Headquarters Volunteer and Assistant Secretary for the DeWitt Fire Department for almost ten years. She currently serves on the Advisory Boards of Syracuse University's Thursday Morning Roundtable and the Syracuse Section of National Council of Jewish Women; is a Board Member of the Tioughnioga Lake Preservation Foundation; and is a volunteer for WCNY's ReadOut, a service where volunteers read and record weekly periodicals for the visually impaired. A 1997 graduate of the Leadership Greater Syracuse program, Berse has received the BizEventz/CNY Business Journal's 40 Under 40 and Women in Business Awards; the National Council of Jewish Women's Hannah Solomon Award; The Post-Standard's "Person of Achievement" Award; and the Fund-Raising Professional of the Year Award from the CNY Chapter of the Association of Fundraising Professionals.
Carl Butch, MD
President and Medical Director, Crouse Medical Practice
Carl Butch, MD, is President and Medical Director of Crouse Medical Practice, PLLC (CMP). He oversees all clinical aspects of CMP and assists in the strategic direction and growth of the practice. He also works closely as a liaison between the Crouse Health Network and the hospital. Board certified in internal medicine, Dr. Butch practiced at Internist Associates of CNY/CMP for more than 15 years. Since its formation in 2010, CMP has grown to include close to 60 providers in multiple specialties operating out of eight physician offices and six lab locations across Central New York. A graduate of the State University of New York Downstate Medical Center College of Medicine, Dr. Butch completed his residency at SUNY Health Science Center in Syracuse.
Sean Fadale
President & CEO, Community Memorial Hospital
Sean Fadale joined Crouse Health in 2012, and serves as President and CEO of Community Memorial Hospital, a Crouse Health corporate partner. Previously, Fadale served as Vice President of Operations at Nicholas H. Noyes Memorial Hospital; Director of Therapy Services and Sports Medicine at Carle Foundation Hospital; and Corporate Director of Therapy Services at Warren General Hospital. Fadale earned his bachelor's degree in Sports Medicine from Mercyhurst University, and both his master's degrees — in physical therapy and business administration — from Gannon University. He began his career as a clinician, practicing as a physical therapist and athletic trainer. Fadale is a Fellow in the America College of Healthcare Executives. Fadale is also involved in professional and community organizations, serving as an executive board member for the Iroquois Healthcare Association; a board member of Vizient Mid-Atlantic; regional policy board elect for region 2 for the American Hospital Association; executive board member for the Leatherstocking Boy Scout Council; board member of the Partnership for Community Development in Hamilton; and assistant troop leader for Troop 120 in Hamilton, NY, where he resides with his wife, Stephanie, and his two sons, JT and Colin.