Family-Centered Care
At Crouse Health, we are honored when you share your birth experience with us. With you as a partner, we dedicate ourselves to caring for you and your family with respect, flexibility, and attention to your needs in a safe and compassionate environment. Our mission is to provide a high-quality, personalized birth experience in a family-centered environment.
Maternity Information – Childbirth Services
Our History
Crouse has a rich history of service to the women and children of Central New York. Founded in 1887 as the Syracuse Women & Children's Hospital & Training School for Nurses, the hospital was the realization of a dream for a group of community-minded women who recognized the special needs of women and children in Syracuse. In 1887, there was no other hospital in Syracuse that admitted women and children. Thus began a service that has specialized in this population for over 130 years. Historically, in the care of women, Crouse Hospital is a pioneer.
We Are the Regional Perinatal Center for Central New York
The services of the Central New York Regional Perinatal Program exist to provide care for the moms and babies with special needs during pregnancy, surrounding delivery, or in the newborn period in a 13-county region. The program promotes healthy outcomes by ensuring that high-risk mothers and infants have access to a continuum of timely appropriate obstetric and pediatric specialized care. If your physician has referred you or your baby for the Perinatal Program, we welcome you and look forward to this partnership to provide the best care.
Baker Regional Neonatal Intensive Care Unit
Sometimes a baby is born prematurely or requires extra medical attention. If this happens,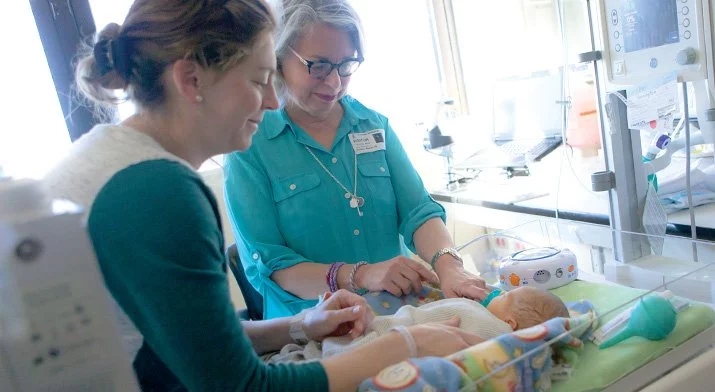 your baby will receive the best medical care from the most highly qualified staff in the region in Crouse Hospital's Walter R.G. Baker Neonatal Intensive Care Unit (NICU).
We provide a wide range of specialized services in the NICU to help your baby and we have a wide variety of supportive services for parents.
Crouse partners with the nearby Ronald McDonald House of CNY, which provides a comfortable and safe environment so you can be close to your baby. Your NICU social worker will provide you with information as needed.
Antepartum Program
This program provides services for moms who require extended stays before the birth of their baby. Our team provides sundry and entertainment for our moms to be.
Our Maternity Team
Our caring and attentive childbirth team partners with you to accommodate your wishes for your childbirth experience. Many providers are on your team (including nurses, doctors, lactation consultants, technicians and support staff, to name a few), each dedicated to keeping you informed and providing the care you need. In addition, as part of a teaching hospital, we have students of all disciplines, committed to academic and medical excellence. Identification badges are worn by all hospital staff displaying names and job titles. If you have any questions about any of our roles in your care, please ask us.
We Are a Spirit of Women Hospital
Crouse Hospital is proud to be the exclusive Spirit of Women hospital in Central New York. As a Spirit of Women hospital, specializing in women's care, we believe in addressing every facet of women's health. Crouse realizes that women of all ages have unique healthcare needs, sometimes including caring for children, spouses and parents. Our goal is to empower, educate, and serve women by providing invaluable and engaging education, outreach and support to help you be at your best.

Careers at Crouse
We offer a wide range of clinical and non-clinical career opportunities.
Search for a Job

Careers at Crouse
We offer a wide range of clinical and non-clinical career opportunities.
Search for a Job