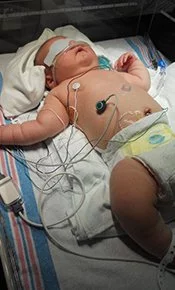 Gabriel was born at Crouse Hospital Nov. 11, 2011, weighing 11 lbs., 12 oz. His mom, Jacki Hilton, and dad, Keith Lyboult of Penneville recently shared his Little Fighters story with us:
The physicians had no clinical explanation for his high birth weight, since I didn't have gestational diabetes. He did have low blood sugar and required oxygen, so he stayed in the NICU at Crouse for 16 days.
Today, we know that Gabriel's birth weight was due in part to his diagnosis of a whole gene deletion on chromosome 17, Neurofibromatosis Type 1 (NF). The condition can cause generalized overgrowth and macrosomia. NF can cause a whole spectrum of symptoms, from tumors growing on nerves, to seizures, scoliosis, developmental and cognitive delays, and so much more.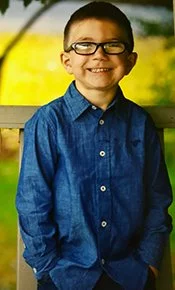 Gabe is a sweet and spunky boy who can always make me laugh. He loves cars and riding his four-wheeler and adores his dog, Mia. After two years of speech therapy, OT and PT in preschool, Gabe will be starting Kindergarten on time this fall. He is so excited!
Due to his NF, he still has a number of doctor appointments and other medical issues we're still trying to figure out. Most kids look forward to getting a sticker at the end of their appointment, but not Gabe. No, instead he tries to swindle the nurses out of a pair of gloves or a face mask!
The Crouse family was so pleased to light our clock tower in blue, the symbolic color of NF, last night and again tonight. Good luck in school this fall, Gabriel… and continued good health!