>> Video: What ATS Means to Patients, Our Community
>> YourCare: Addiction Treatment Services – Special Edition

>> ATS Clothing Closet: Crouse Hospital Auxiliary Project
Since 1963, Crouse Health has been helping individuals and families take back their lives and experience a fresh start, free from drugs and alcohol. Following a year of construction, Crouse is proud to welcome patients to the new Bill and Sandra Pomeroy Treatment Center in Syracuse. The two-story, 42,000 square-foot facility, located at 2775 Erie Blvd. East, replaces the 100-year-old former location of Crouse's outpatient treatment services at 410 South Crouse Avenue, which the program had outgrown.
Recognizing Crouse's longtime leadership role in addiction treatment, the New York State Department of Health and Empire State Development Corporation awarded Crouse $17 million to fund the purchase of the land and construction. Local individuals and foundations have also made donations to assist Crouse in growing some of the unique offerings and activities that are hallmarks of its addiction treatment programs.
Integration of Services
The new location will allow Crouse to expand the integration of medical services, including primary care, with a holistic, uplifting healing environment that will lead to improved treatment and recovery outcomes for patients. "One of our main goals with the new location was to expand access to services and increase outpatient capacity in a welcoming, safe and nurturing environment," says Tolani Ajagbe, MD, medical director for Crouse's Addiction Treatment Services, adding that the increased square footage will enable Crouse to provide treatment and recovery services for an additional 300+ patients annually.
"The move to this state-of-the art treatment center represents an important milestone in the history of Crouse's Addiction Treatment Services," says Monika Taylor, MBA, LCSW, CASAC, director of Addiction Treatment Services. "We are excited to support individuals on their recovery journey in such a healing, uplifting environment."
Crouse has seen a significant increase in overall outpatient admissions over the past five years, driven largely by the increase in opiate use disorders; in 2020, this accounted for 53 percent of all Crouse ATS admissions. "With the ongoing Covid-19 pandemic, the number of overdoses has increased significantly across the U.S. and here in Central New York," says Dr. Ajagbe.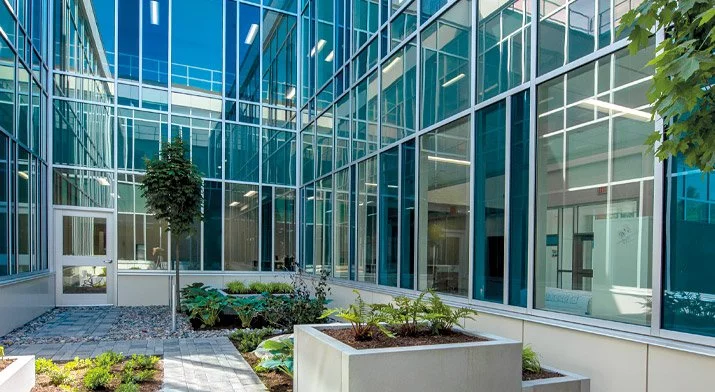 Included in the facility design is a recreation therapy courtyard, staff courtyard, expanded and separate men's and women's rehabilitation areas, medical suite, meditation room and staff multi-purpose rooms, all interactive and smartboard equipped. The building also includes a Life Skills Lab, used to teach meal preparation, laundry tasks, and employability skills to provide participants with the tools to navigate life in recovery. The main areas of the building are oriented around a plant-filled central courtyard, which provides daylight and a calming environment in which patients and staff can reflect.
A number of features in the new location evolved from a series of focus groups held with patients and staff members during the planning process, including design of the courtyard and artwork for the public spaces. Highlighting the importance of the project to the community and region, the William G. Pomeroy Foundation has made a special donation in support of the new addiction treatment services facility. This generous gift will name the building and create a dedicated endowment within the Crouse Health Foundation to permanently provide support for the unique offerings and activities that are hallmarks of Crouse's program.
Removing the Stigma of Addiction
"For nearly 60 years, Crouse has worked to remove the stigma of addiction and provide personalized treatment," said Trustee Bill Pomeroy. "We are proud to support this important program, with the deepest respect for the courage and commitment of all its patients and staff." Reflecting its expertise and history as a regional treatment provider, Crouse continues to serve as a major academic rotation site in the fields of addiction medicine and addiction psychiatry, providing hands-on experience for medical students, residents and fellows who come through on a monthly rotation from SUNY Upstate Medical University. The program also attracts physician assistant interns from Le Moyne College and Kings College, Pennsylvania, as well as social work interns from Syracuse University and other local and regional institutions.
"We have a highly-regarded training program in addiction treatment services education, but have not been able to expand this essential service due to space limitations of the 410 facility," says Dr. Ajagbe. The expanded Pomeroy location will allow Crouse to significantly increase the number of providers trained in the fields of addiction medicine and addiction psychiatry, allowing Crouse to better serve the community and beyond, adds Dr. Ajagbe. "We're looking forward to working with our community partners to expand the training program and generate more interest in these two growing fields."
Serving a Diverse Population
Addiction affects all, regardless of background, race, religion or ethnicity. "Crouse ATS proudly serves a diverse population that reflects the entire socio-economic spectrum," says Crouse CEO Kimberly Boynton. "With the opening of the Bill and Sandra Pomeroy Treatment Center, we remain committed to our mission to expand access to care and ensure delivery of high-quality, holistic addiction and mental health services in our community," says Boynton.
"This truly is a transformative project," says Crouse Chief Operating Officer/Chief Medical Officer Seth Kronenberg, MD. "We have never been more determined to dedicate our resources, expertise and leadership to ensure our community overcomes this devastating public health issue, made even more challenging by the ongoing Covid-19 pandemic."
Crouse's outpatient programs serve patients from 23 counties in New York State, with the majority coming from Onondaga, Madison, Oneida, Cayuga, Oswego and Jefferson counties. In 2020, the service logged more than 151,000 patient visits. Crouse targets all segments of the population including adults; adolescents; pregnant and post-partum women; seniors; developmentally delayed/brain injured patients; patients involved in the criminal justice system; and those with co-occurring mental health and substance use issues.
Crouse worked with a number of locally-based companies to design and build the facility, including general contractor The Hayner Hoyt Corporation; King + King Architects; ASM Engineering; and Klepper, Hahn & Hyatt. Pyramid Brokerage worked with the hospital to identify potential site locations for the new facility.