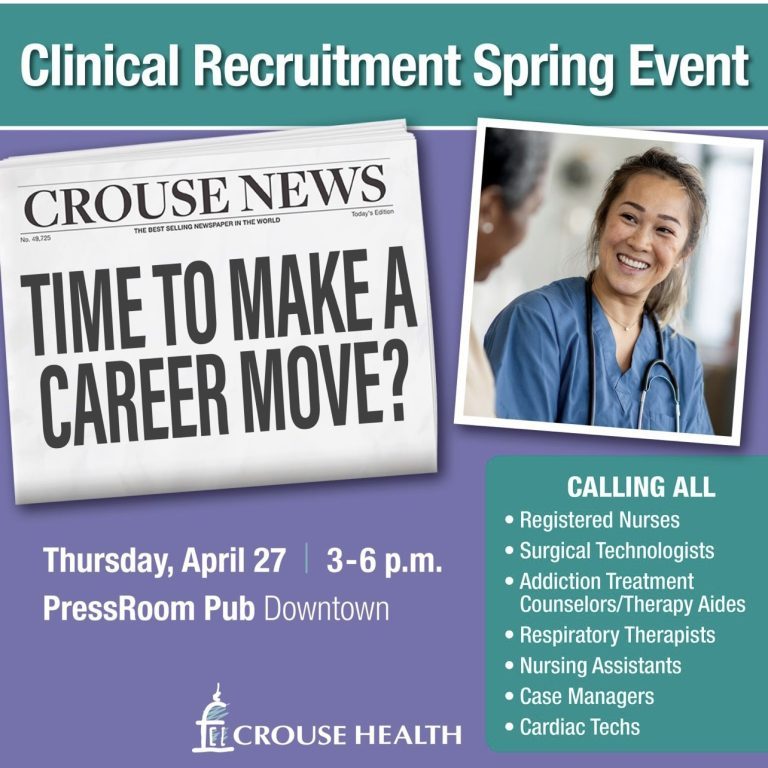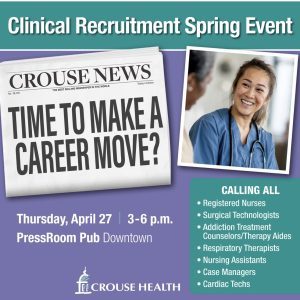 Looking to make a career move in healthcare? Crouse Health is holding a free recruitment event Thursday, April 27, at the PressRoom Pub, 220 Herald Place, in downtown Syracuse, from 3 to 6 p.m.
Crouse currently has openings for the following positions:
Registered Nurses
Surgical Technologists
Addiction Treatment Counselors/Therapy Aides
Respiratory Therapists
Cardiac Techs
Nursing Assistants
Case Managers
"We are actively seeking mission-focused clinical staff members who want to bring their talents to an environment that supports our culture of caring, passion, fun and a dedicated focus on the patient experience," says Crouse President and CEO Seth Kronenberg, MD.
Crouse recently announced pay increases for experienced RNs and new grads that go into effect June 4. Other benefits offered by Crouse include:
Opportunity for incentive pay
Affordable comprehensive benefits (health, dental, vision)
Hospital contribution to 401k
Inclusive culture
Advanced education programs
Tuition support
Nurse Residency/Academy program
Supportive family environment
Event attendees will have an opportunity to meet Crouse clinical leaders and enjoy tasty tidbits and non-alcoholic beverages courtesy of the PressRoom Pub.
For more information, contact Crouse Human Resources at 315-470-7521, crousehr@crouse.org, or visit crouse.org/careers.