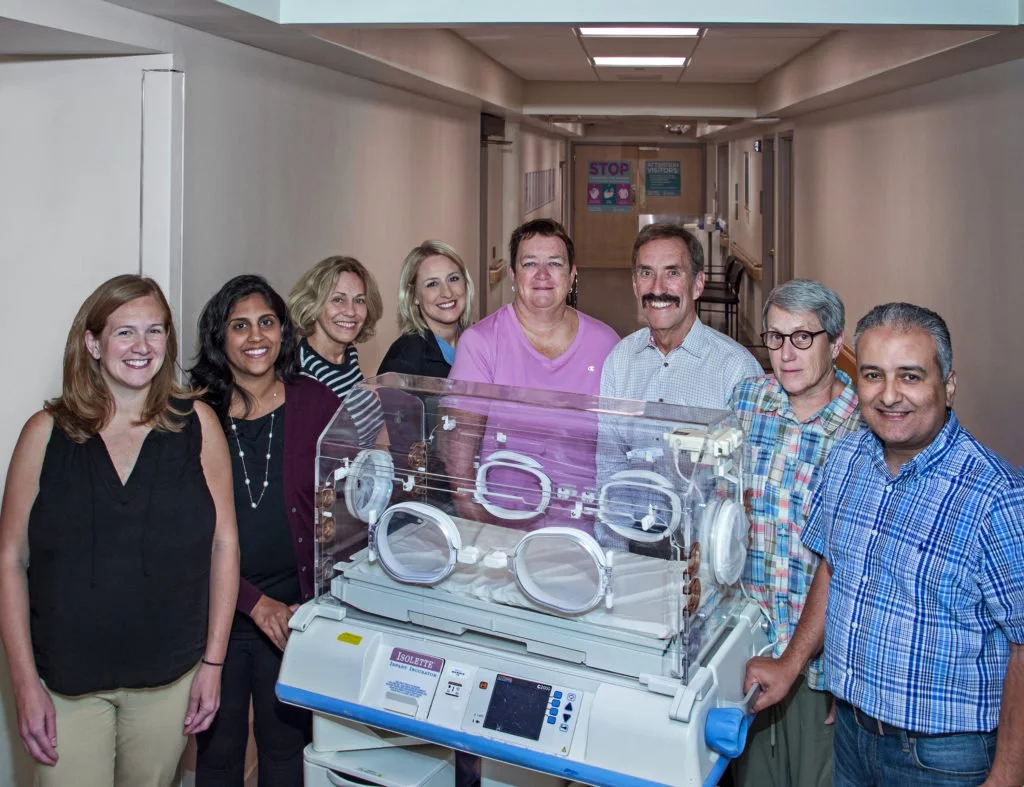 Crouse Health has announced plans for the expansion and renovation of its Regional Neonatal Intensive Care Unit (NICU), which is designated by the New York State Department of Health as the only hospital in Central New York to serve as the area's Regional Perinatal Center.
Major Gift for NICU Expansion Project
Crouse Health Foundation also announces a $500,000 gift dedicated to the project from Neonatal Associates of Central New York, whose eight physicians care for 1,000 premature and critically ill infants from a 14-county region in Northern and Central New York annually. The neonatologists are Steven Gross, MD, medical director of Newborn Medicine and the Regional NICU; Rebecca Barnett, DO; Ellen Bifano, MD; Boura'a Bou Aram, MD; Bonnie Marr, MD; Swati Murthy, MD; Melissa Nelson, MD; and Beverly Roy, MD.
"As Central New York's premier birthing hospital and home to the Regional NICU, Crouse Health is deeply grateful to the physicians of Neonatal Associates of Central New York," says President and CEO Kimberly Boynton. "This tremendous gift that will benefit children and families in our upstate New York region, coupled with their expertise and care, are reflective of their commitment to our community."
In recent years, the need for neonatal care has grown regionally and nationally due to an increase in the number of premature and multiple births. While Crouse's NICU is the highest level — and largest — in the region with 57 bassinets, more space is required to provide the best care possible to its tiniest patients, affectionately known as "Crouse Little Fighters."
Family-Centered NICU Care
Located on the 9th floor of Crouse Hospital's Irving Unit, the renovated NICU will be expanded from its current size of 15,000 square feet to a total size of 24,000 square feet. The planned unit will incorporate lifesaving technological advances, while also providing more space for families to bond with infants, a tangible expression of the NICU's focus on family-centered care. "As physicians, we encourage parents to play an active role in the care of infants in the NICU," says Dr. Gross. "The newly renovated NICU will provide a more comfortable and private environment for family members to be active participants, with an emphasis on physical and emotional bonding."
The Crouse Health Foundation plans to raise $10 million through private gifts to the CrouseCares comprehensive campaign to support the $31 million NICU expansion and renovation project. The plan is to raise the funds by the end of 2020.
Crouse Little Fighters
"Crouse Health has a rich history of proudly caring for mothers and infants, delivering more babies than any other hospital in Central New York," says Boynton. "With more space for doctors and nurses to provide lifesaving care and greater comfort and privacy for families and their infants, the plans for a renovated NICU are a testament to Crouse's commitment to providing the highest level of care to our smallest patients, affectionately known as Crouse Little Fighters."
Contact Director of Philanthropy Barb Karas at 315-470-7469 to learn more.
> Crouse Cares Campaign – NICU Project Overview
> Crouse Cares Campaign – NICU Campaign Pledge Form
> Newschannel 9 NICU Announcement Coverage