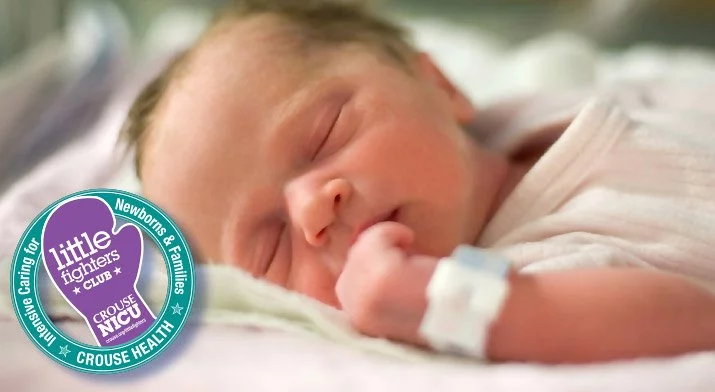 The Crouse Health Foundation announced today that an anonymous donor has committed to a $250,000 challenge grant to support the renovation of Crouse's Baker Regional Neonatal Intensive Care Unit (NICU). Known as the Little Fighters Regional Challenge, the grant will match gifts and pledges — dollar for dollar — up to $250,000. In an effort to encourage regional support, only donations received from outside Onondaga County will count toward the challenge.
Carrie Berse, president of Crouse Health Foundation says, "Fifty percent of the babies in Crouse's NICU each year are from outside Onondaga County. The Little Fighters Regional Challenge will engage our neighbors from a region that stretches as far north as Canada and south to Pennsylvania. We hope to shine a light on the number of infants from those distant communities who receive lifesaving treatment here in Syracuse at the Regional NICU at Crouse."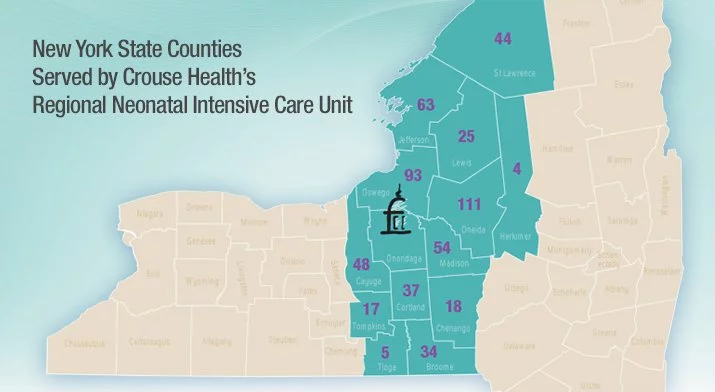 More than 1,000 critically ill and premature infants from 14 counties receive care in the New York State-designated Regional NICU at Crouse each year. While it is the highest level — and largest — in the region with 57 bassinets, more space is required to provide the best care possible to its tiniest patients, affectionately known as "Crouse Little Fighters," and their families.
The Crouse Health Foundation seeks to raise a total of $10 million toward the $31 million cost of the NICU renovation and expansion project, identified as a priority for its CrouseCares comprehensive campaign. The proposed renovation will incorporate lifesaving technological advances, while also providing more space for families to bond with infants, a tangible expression of the NICU's focus on family-centered care.
"We are so grateful to this anonymous donor for recognizing the tremendous impact Crouse's NICU has on babies in our 14-county region, which includes families in the North Country, Southern Tier, Finger Lakes and the Mohawk Valley," said Berse.
Contributions can be made online. For more information about the project or the challenge, contact Director of Philanthropy Barb Karas at 315-470-7469.
Donate Now
Little Fighters Stories
Regional NICU Project
Baker Regional NICU