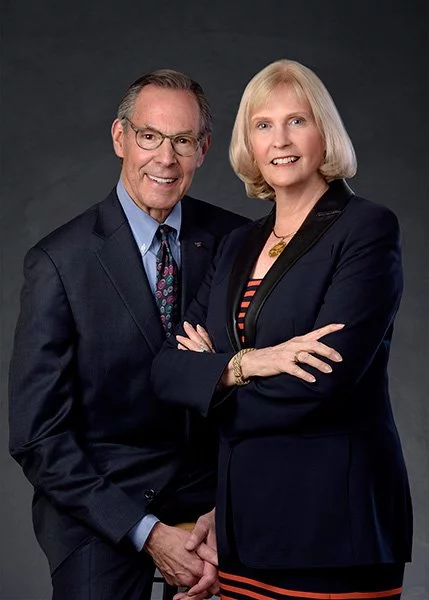 One of our community's most active and ardent couples who individually and together have strived to make Central New York a better place for all will be honored by Crouse Health Foundation on Friday, Oct.6 during its 41st annual Tribute Evening. This year's black-tie gala, with its theme of Civic Pride, will honor the accomplishments of Judy and Eric Mower, being recognized for their long-standing community leadership, civic endeavors and support of Crouse and the greater Syracuse area.
"The Crouse Health family is proud to honor the Mowers for their energetic, forward-thinking community spirit and a lifetime of generous donations of their time, talent and resources toward making Syracuse and the Central New York region a vibrant area to live, work and play," says Crouse Health President and CEO Kimberly Boynton.
Beginning at 6 p.m., Tribute Evening will feature an extended reception, gourmet dinner, tribute presentation and entertainment by Atlas. The highlight of event will be the salute to the Mowers. Tribute Evening net proceeds will be used to support the work of Crouse Health Foundation, including purchasing special equipment, underwriting new initiatives, and funding educational programs and scholarships.
Judy and Eric Mower have been actively involved in numerous civic organizations in the Greater Syracuse area. As Founders and/or Chairs of F.O.C.U.S. Syracuse, Greater Syracuse Chamber of Commerce, Leadership Greater Syracuse, Metropolitan Development Association of Syracuse, Syracuse 20/20, Syracuse Neighborhood Initiative and United Way of Central New York, among others, their extraordinary efforts have positively touched the lives of countless Central New Yorkers. Arts and natural resources groups have also benefitted from their leadership expertise. One of their great passions is their alma mater, Syracuse University, where Judy serves on the Board of Trustees Executive Committee and Eric is a Life Trustee.
Eric, Chairman and CEO of Eric Mower and Associates, has left his mark in the advertising, communications and marketing world. He has served in leadership roles on state and national industry associations throughout his nearly fifty-year career. An organizational development consultant for over twenty-five years, Judy has helped legions of institutions develop leadership, improve quality or plan for their future.
Major sponsors of Tribute Evening 2017 are Excellus BlueCross BlueShield and Diane and Bob Miron. Sponsors are Bond, Schoeneck & King, PLLC; A Friend of the Division of Women's and Infants' Services at Crouse Hospital; Hancock Estabrook, LLP; The Hayner Hoyt Corporation; HCR Home Care; KeyBank; Northwell Health; Pediatric Cardiology Associates, LLC; The William G. Pomeroy Foundation; Practice Resources, LLC; and VNA Homecare.
Tribute Evening 2017 Leadership is Steven St. Amour, General Chair; John King, Community Chair; W. Douglas Bunn, MD, Medical Staff Chair; Stephanie Crockett, Enhancements Committee Chair; Doug Logan, Tribute Evening Committee Chair; and Laurence Bousquet, Board of Trustees Chair.
Patron tickets for Tribute Evening 2017 are $5,500 for a table of ten or $550 per person, and include priority seating, video and program recognition. General tickets are $3,000 for a table of ten or $300 per person. Reservations are due by Sept. 25. Souvenir program ads are available for purchase until Sept. 6. For more information, contact Phyllis Devlin at 315-470-7008 or phyllisdevlin@crouse.org.