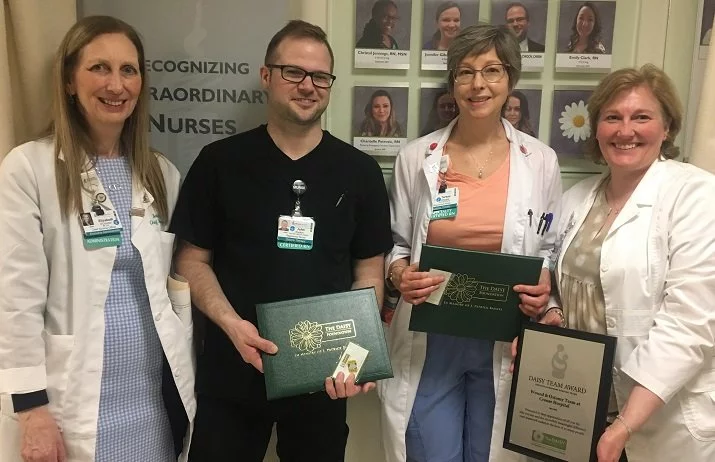 Crouse is proud to be a DAISY hospital, and each month we honor a nurse for extraordinary and compassionate care by presenting him or her with a DAISY Award.
This month, Crouse is proud to introduce the DAISY Team Award, given to the nurse-led team that exemplifies the Crouse mission, vision and values and are role models of collaboration and teamwork.
The first recipients of the team award are John Rankin and Theresa Whipple from the Ostomy team.
John and Theresa were nominated by a fellow nurse who saw the commitment they made to help a patient with his wound management system.
Their nomination noted that although their department was short-staffed that day, both nurses took the time help this patient, sometimes seeing him every 8-12 hours each day.
"As a result of their efforts, the patient's appliance stayed on for longer periods of time. Their creativity improved his overall comfort and skin integrity, allowed him to get some much-needed sleep and gave him the confidence to ambulate in the hallways without fear of leakage and embarrassment."
The patient is now at home making a steady recovery and we thank John and Theresa for their dedication to providing him the best care.
Chief Nursing Officer Betty O'Connor, left, and Vice President of Clinical Services and Nursing Quality Rhonda Reader, far right, presented John and Theresa with their award.
About the DAISY Award
In November 1999, the family of J. Patrick Barnes formed the DAISY Foundation as a way to express their profound gratitude to nurses for the work they do for patients and their families every day. DAISY is an acronym for Diseases Attacking the Immune System. Pat died at age 33 of complications of Idiopathic Thrombocytopenic Purpura (ITP), a little known but not uncommon auto-immune disease. In 2015, Crouse became a DAISY-affiliated hospital, and presents an award to a deserving nurse, selected by a committee, regularly throughout the year. The DAISY Award program at Crouse has been made possible through a donation from the Crouse Hospital Medical Staff.
Click here to learn how you can nominate and nurse, nursing team or nursing leader for a DAISY Award.