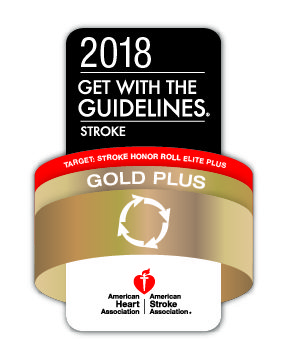 When it comes to stroke care, every moment matters. That's because a stroke can cause much damage, such as long-term disability.
In recognition of the high-quality stroke patient outcomes that Crouse Health's team achieves, the American Heart Association/ American Stroke Association has presented Crouse with its Get With The Guidelines-Stroke Gold Plus and Target: Stroke Elite Plus Honor Roll Award.
Ongoing Commitment to Guidelines
This award recognizes Crouse's commitment and success in ensuring that stroke patients receive the most appropriate, timely treatment according to nationally recognized, research-based guidelines grounded in the latest scientific evidence. In 2010, Crouse, a New York State-designated stroke center, was the first area hospital to earn "Gold Plus" status for stroke care treatment from the American Stroke Association. Crouse has earned this status each year since 2012.
"With a stroke, time lost is brain lost, and this award demonstrates our commitment to ensuring patients receive care based on nationally-respected clinical guidelines," says Chief Medical Officer Seth Kronenberg, MD. "Crouse is dedicated to improving the quality of stroke care and the American Heart Association/American Stroke Association's Get With The Guidelines-Stroke helps us achieve that goal."
To receive the Gold Plus Quality Achievement Award, hospitals must achieve 85 percent or higher adherence to all Get With The Guidelines-Stroke achievement indicators for two or more consecutive 12-month periods and have achieved 75 percent or higher compliance with five of eight Get With The Guidelines-Stroke Quality measures.
Elite Plus Honor Roll
To qualify for the Target: Stroke Elite Plus Honor Roll, hospitals must meet quality measures developed to reduce the time between the patient's arrival at the hospital and treatment with the clot-buster tissue plasminogen activator, or tPA, the only drug approved by the U.S. Food and Drug Administration to treat ischemic stroke.
In addition to tPA therapy, those stroke patients who come to Crouse requiring more advanced treatment are quickly routed to one of two dedicated hybrid OR suites equipped with the region's latest stroke care technology.
Door-to-Treatment Times Below National Goals
"As result of our team working to streamline the process to ensure that stroke patients receive definitive treatment as quickly as possible, door-to-treatment times here at Crouse are consistently below national goals,"said Oksana Kaskov, Crouse Neuroscience Institute Stroke Coordinator.
According to the American Heart Association/American Stroke Association, stroke is the number five cause of death and a leading cause of adult disability in the United States. On average, someone suffers a stroke every 40 seconds; someone dies of a stroke every four minutes; and 795,000 people suffer a new or recurrent stroke each year.
"We are pleased to recognize Crouse for their commitment to stroke care," said Eric E. Smith, M.D., national chairman of the Get With The Guidelines Steering Committee and an associate professor of neurology at the University of Calgary in Alberta, Canada. "Research has shown that hospitals adhering to clinical measures through the Get With The Guidelines quality improvement initiative can often see fewer readmissions and lower mortality rates."
About Get With The Guidelines®
Get With The Guidelines® is the American Heart Association/American Stroke Association's hospital-based quality improvement program that provides hospitals with the latest research-based guidelines. With the goal of saving lives and hastening recovery, Get With The Guidelines has touched the lives of more than 6 million patients since 2001. For more information, visit heart.org/quality or heart.org/QualityMap.