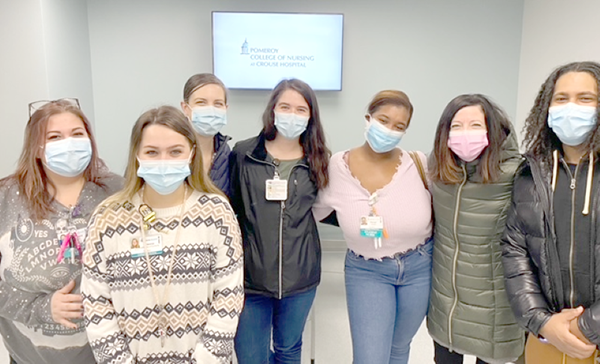 By Eric Reinhardt
Date: 2/9/2023 12:29 PM
DeWITT — Students attending the Pomeroy College of Nursing at Crouse Hospital have a new location for their academic training.
The nursing school has relocated its operations to a newly created space within the Crouse Medical Center at 5000 Brittonfield Parkway in DeWitt.
The sale of the Marley Education Center in 2022 prompted the move of the Pomeroy College of Nursing to the Brittonfield location, Bob Allen, VP, communications and governmental affairs, told CNYBJ in an email message. Students will continue their training in the main hospital, he noted.
Crouse worked with King + King Architects on the design of the new space, which encompasses the entire second floor of the building. The cost of the build out was part of the lease agreement that Crouse maintains with the building owner, Allen tells CNYBJ.
The Brittonfield site includes all new classrooms, a nursing skills lab, a high-tech simulation area, library, computer labs, social and study spaces for students, and administrative/faculty office space. The new facility is designed to meet the needs of all students, per the Crouse Health announcement.
Academic operations at the new site began on Jan. 9 as the Pomeroy College welcomed back returning students from the evening/weekend option. Traditional day students begin their courses on Jan. 17.
"We are excited to welcome our students, faculty and staff to our new home, which features an all new learning and teaching space in an innovative and collaborative learning environment," Patricia Morgan, dean of Pomeroy College of Nursing at Crouse Hospital, said.
Pomeroy College of Nursing at Crouse Hospital offers a two-year associate degree in applied science with a major in nursing. It is fully accredited by the Atlanta, Georgia–based Accreditation Commission for Education in Nursing (ACEN).
More than 6,000 people have graduated from Pomeroy College of Nursing at Crouse Hospital over its century of serving Central New York, Crouse Health said.