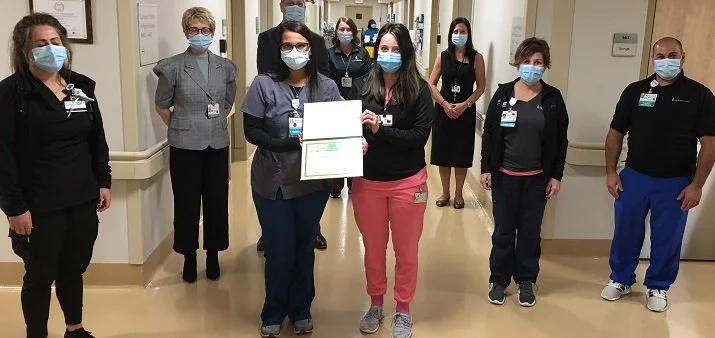 The DAISY Award is a way to honor a nurse each month for extraordinary care. At Crouse, DAISY Award recipients personify Carepassion and the patient experience.
Once a year, we also honor a nursing team and nurse leader who exemplify the Crouse mission, vision and values and are role models of collaboration and teamwork.
For their efforts throughout the COVID-19 pandemic, the 4 Memorial team has received the 2020 DAISY Team award. Nurse manager Marc Caccavale, RN, said about his team, "I am astounded by your resilience and ability to push forward among the most difficult and trying times. This demonstrates your commitment to each other and the notion that we can overcome any challenges we face."
Congratulations to the members of the 4 Memorial team on this award!

The nurse leader award was presented to Diana Dixie, RN, nurse manager on the 4 North Irving unit (pictured below). Nominations for Diana cited her positivity, hardwork and dedication, not just to her patients but to her staff.
Diana's nursing staff noted a time when, on a particularly busy day, Diana personally brought each nurse their favorite coffee order to make everyone's day a little better. She's also known as a team player who does not shy away from bedside care. She has sat at the bedside of a comfort care patient to keep him company and taken patient assignments on the floor.
Her staff has commented on her knowledge and expertise, saying she is always teaching and coaching bedside nurses and encouraging them to continue their education.
"She works hard enough for three people and cares deeply about the staff, patients and families on the unit," the nomination read. "It is evident in the culture of 4 North that Diana is a nurse leader of the highest quality."
Congratulations, Diana! Thank you for being an exceptional nurse and a great leader!
About the DAISY Award
In November 1999, the family of J. Patrick Barnes formed the DAISY Foundation as a way to express their profound gratitude to nurses for the work they do for patients and their families every day. DAISY is an acronym for Diseases Attacking the Immune System. Pat died at age 33 of complications of Idiopathic Thrombocytopenic Purpura (ITP), a little known but not uncommon auto-immune disease. In 2015, Crouse became a DAISY-affiliated hospital and presents an award to a deserving nurse, selected by a committee, regularly throughout the year. The DAISY Award program at Crouse has been made possible through a donation from the Crouse Hospital Medical Staff.