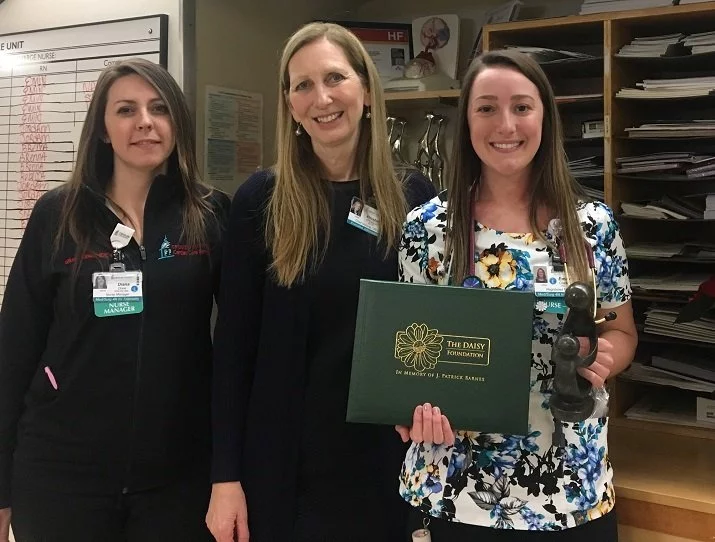 Emily Clark, RN, from 4 North Irving Unit is the latest DAISY award recipient.
Emily was nominated by a patient's family member who felt she took exceptional care of the patient. The patient had suffered a severe intracranial bleed, was treated in the emergency room and ICU before being transferred to "comfort care" on 4 North Irving.
"It was there that we had the honor of meeting Emily and having her care for our family member," the patient's family wrote.
The family noted that their entire experience at Crouse was a positive one, stating that everyone was professional and caring. Yet, they felt as though Emily went above and beyond in her care of the patient and the family.
"She was experienced beyond her years. Her demeanor and grace gave comfort to my family during a most difficult time," the family said.
Thank you, Emily, for your warmth and compassion toward our patients and their families!
Nurse Manager Diana Dixie, left, and Chief Nursing Office Betty O'Connor presented Emily with her award.
About the DAISY Award
In November 1999, the family of J. Patrick Barnes formed the DAISY Foundation as a way to express their profound gratitude to nurses for the work they do for patients and their families every day. DAISY is an acronym for Diseases Attacking the Immune System. Pat died at age 33 of complications of Idiopathic Thrombocytopenic Purpura (ITP), a little known but not uncommon auto-immune disease. In 2015, Crouse became a DAISY-affiliated hospital, and presents an award to a deserving nurse, selected by a committee, regularly throughout the year. The DAISY Award program at Crouse has been made possible through a donation from the Crouse Hospital Medical Staff.