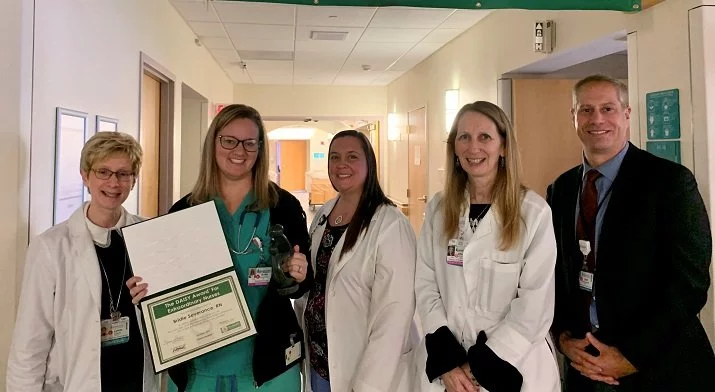 Kienzle Family Maternity Center nurse Bridie Severance, RN, is the latest recipient of the DAISY Award.
Bridie was nominated by a mother who delivered her son a few weeks early. Her son was being treated for jaundice with phototherapy, which was scary to a new mom.
"The sight of the incubator and seeing my newborn son in it was terrifying for my husband and me," the mom said. They were trying to understand it all, as well as comfort their son, and they felt helpless.
The mom said, "Our son did not adjust to the incubator and would just cry inconsolably while receiving treatment."
Bridie came to check on their son at the start of treatment and recognized how upset the mother was and comforted her.
"She acknowledged my emotions. She explained the importance of the treatment, but also assured us that we were not helpless in assisting our son with getting through the treatment. She gave us ideas on how to help calm him and with her guidance, we were able to get him settled for the night in the incubator," the mom said.
The baby's mom stressed how patient Bridie was, saying she really felt Bridie understood how she and her husband were feeling. They said they could see the compassion in Bridie's eyes when she spoke to them.
"I cannot put into words how comforted I felt," the mom said.
She added, "If Bridie can help other moms the way she helped me, she is in the right place. It takes a special nurse to work that floor and handle all the struggles that new parents have. Bridie was a lifesaver that night and we are so thankful that she was there."
Thank you, Bridie, for going above and beyond in providing the best in patient care.
About the DAISY Award
In November 1999, the family of J. Patrick Barnes formed the DAISY Foundation as a way to express their profound gratitude to nurses for the work they do for patients and their families every day. DAISY is an acronym for Diseases Attacking the Immune System. Pat died at age 33 of complications of Idiopathic Thrombocytopenic Purpura (ITP), a little known but not uncommon auto-immune disease. In 2015, Crouse became a DAISY-affiliated hospital and presents an award to a deserving nurse, selected by a committee, regularly throughout the year. The DAISY Award program at Crouse has been made possible through a donation from the Crouse Hospital Medical Staff.