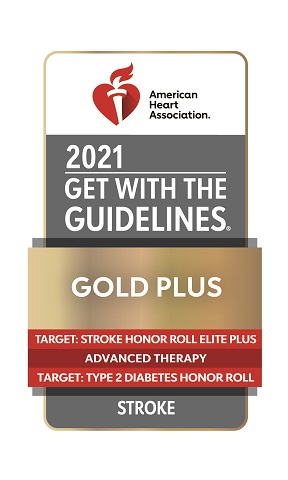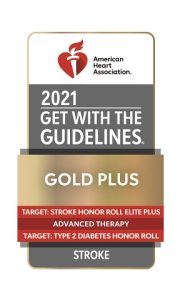 Crouse Health has received the American Heart Association's Gold Plus Get With The Guidelines®-Stroke Quality Achievement Award for its commitment to ensuring stroke patients receive the most appropriate treatment according to nationally recognized, research-based guidelines.
For the first time, Crouse has also received the Association's Target: Type 2 Diabetes Honor Roll award. To qualify for this recognition, hospitals must meet quality measures developed with more than 90% of compliance for 12 consecutive months for the "Overall Diabetes Cardiovascular Initiative Composite Score."
"Almost 30 percent of our patients have diabetes and we have taken up the challenge of maximizing their diabetes care while they are here. We believe this will increase the likelihood of positive medical outcomes and reduce the risk of diabetes-related complications," said Chief Operating Officer/Chief Medical Officer Seth Kronenberg, MD.
Stroke is the No. 5 cause of death and a leading cause of adult disability in the U.S. On average, someone in the U.S. suffers a stroke every 40 seconds, and nearly 795,000 people suffer a new or recurrent stroke each year. Early stroke detection and treatment are key to improving survival, minimizing disability and speeding recovery times.
Get With The Guidelines-Stroke was developed to assist healthcare professionals to provide the most up-to-date, research-based guidelines for treating stroke patients.
Each year program participants apply for the award recognition by demonstrating how their organization has committed to providing quality care for stroke patients. In addition to following treatment guidelines, participants also provide education to patients to help them manage their health and rehabilitation once at home.
"We are pleased to recognize Crouse Health for their commitment to stroke care," said Lee H. Schwamm, M.D., national member and past chairperson of the Quality Oversight Committee for the American Heart Association and neurologist, vice president of telehealth for Massachusetts General Hospital, Boston, Massachusetts. "Research has shown that hospitals adhering to clinical measures through the Get With The Guidelines quality improvement initiative can often see fewer readmissions and lower mortality rates."
Crouse also received the Association's Target: StrokeSM Honor Roll Elite Plus award. To qualify for this recognition, hospitals must meet quality measures developed to reduce the time between the patient's arrival at the hospital and treatment with the clot-buster tissue plasminogen activator, or tPA, the only drug approved by the U.S. Food and Drug Administration to treat ischemic stroke.
Additionally, Crouse received the Association's Target: StrokeSM Honor Roll Advanced Therapy award. For this award, hospitals successfully treated at least 50% of qualified stroke patients within 90 minutes of arriving directly to their facility and within 60 minutes of arriving by EMS transport.