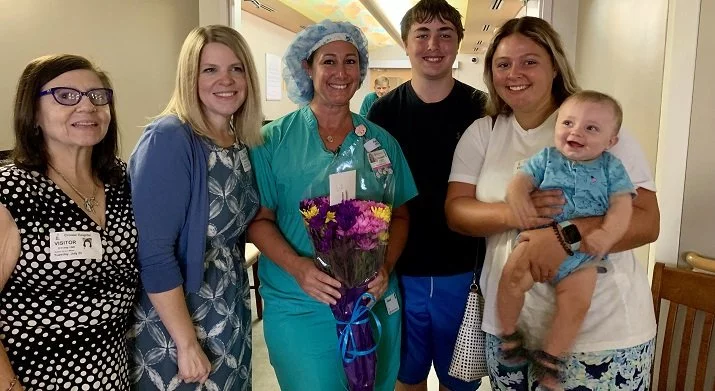 Liz Dablock, RN, from our Labor & Delivery Unit, has received a DAISY Award for her patience and compassion.
Second-time mom Melissa Lee wrote a nomination for Liz, saying she came to Crouse with high expectations and excitement for the birth of her son.
"My first baby was born premature and rushed off to the NICU. It was very stressful for me. I told Liz that I really wanted to enjoy every aspect of this birth. She assured me she would do everything she could to meet my requests," Melissa wrote.
When the baby was born, Liz assisted Melissa's mother with taking some photos and helped to capture her first moment with her son.
"Looking back on those pictures, I'm so grateful she took the time to make them possible," Melissa wrote.
Liz also assisted Melissa with breastfeeding her baby for the first time.
Melissa said: "I tell everyone that his birth was the most amazing experience of my life. Liz helped me enjoy it as much as possible and I owe her for being such an extraordinary nurse to all of us that day."
This is the second time Liz has been honored with a DAISY Award and we thank her for consistently being a great example of Carepassion to new families at Crouse.
Liz was presented with the award by Melissa Lee and her family.
About the DAISY Award
In November 1999, the family of J. Patrick Barnes formed the DAISY Foundation as a way to express their profound gratitude to nurses for the work they do for patients and their families every day. DAISY is an acronym for Diseases Attacking the Immune System. Pat died at age 33 of complications of Idiopathic Thrombocytopenic Purpura (ITP), a little known but not uncommon auto-immune disease. In 2015, Crouse became a DAISY-affiliated hospital and presents an award to a deserving nurse, selected by a committee, regularly throughout the year. The DAISY Award program at Crouse has been made possible through a donation from the Crouse Hospital Medical Staff.