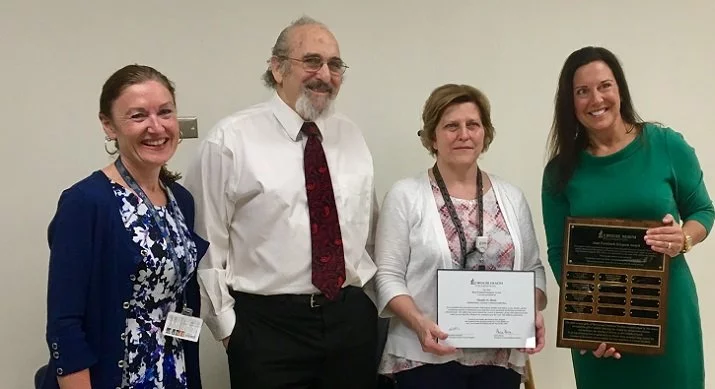 Congratulations to Maudie St. Denis, Administrative Assistant at Commonwealth Place, who was selected as the 2019 recipient of the Joan Fernbach Kingson Award.
Maudie was nominated by her colleagues at Commonwealth, who have said she is in the epitome of the Crouse mission, vision and values.
As one of the first faces patients and families see when they arrive at Commonwealth Place, most times in a fragile state, it's her calm and friendly demeanor that lets them know they are in a safe space.
Maudie's colleagues said of her: "She has a kind and gentle spirit. She is always willing to go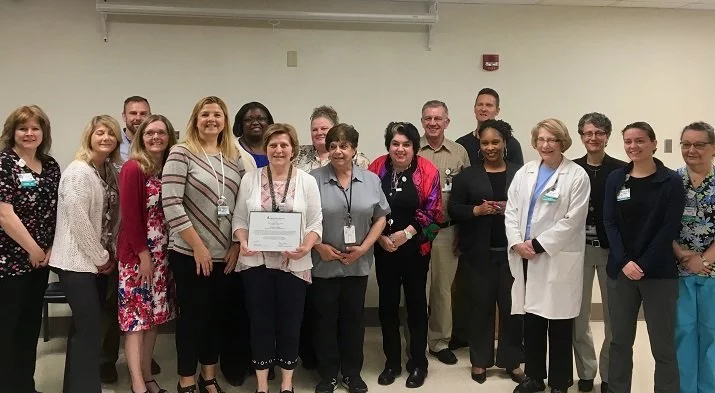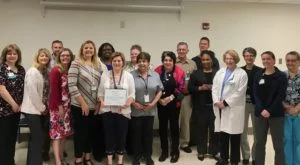 the extra mile for anyone – patients and staff. When homeless patients are in need of undergarments or toiletries, she is there. When a colleague needs support with various tasks, she is there. You can count on her to be honest, but she never passes judgement. She is of service to everyone and never expects anything in return."
The Joan Fernbach Kingson Award was established to recognized service or technical workers like Maudie, whose special interactions with patients and families give vivid expression to the values of care which Mrs. Kingson was committed to in her work with children and families.
Those values include treating each patient as an individual; respecting the social, emotional, intellectual, spiritual and physical needs of others, and welcoming families, especially the young, into the caring process. The often unseen gifts of service and technical workers acknowledged by this award include the gift of careful listening, the simple joy of human-to-human conversation, the sharing of silence, or the warmth of touch. In giving of themselves so generously to others, awardees help sustain the essence of humanity and exemplify the best traditions of Crouse Health. They exhibit Carepassion at its finest.
One such example of Maudie's commitment to the care of patients is her efforts to make Commonwealth Place a warm and welcoming environment. She keeps the lobby decorated, especially during the holidays, and includes patients in the decorating process which they have expressed gratitude in doing.
For many years, Maudie has used her own time to go to a local pumpkin farm to retrieve donated pumpkins, which she used to decorate the lobby and as a project for recreational therapy. The patients enjoyed decorating their pumpkins to take with them when they completed their program or give to their children on visitation day.
Through her dedication for her work, patients and staff, Maudie is a great example of Carepassion at Crouse and deserving of the Joan Fernbach Kingson Award for 2019.
About the Award
This annual cash prize is made possible by the family and friends of former Crouse Hospital patient Joan Fernbach Kingson, a nurse and educator who passed away in 2001. Syracuse University professor Eric Kingson was her husband and is the author of Lessons from Joan, Living and Loving with Cancer, a Husband's Story. To see past recipients of the award, click here.