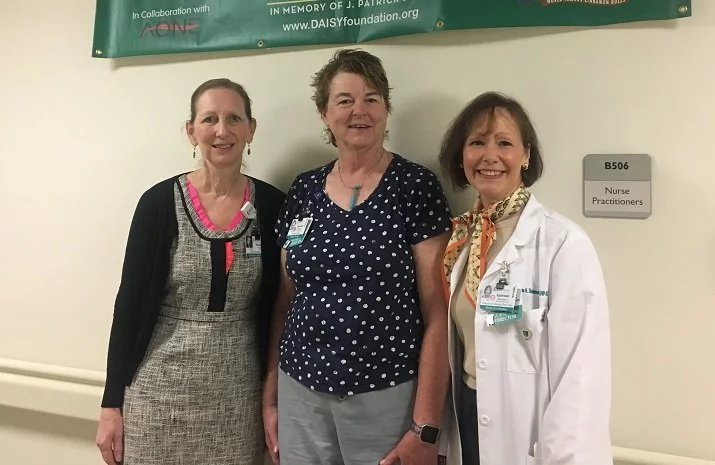 Deb Patterson, RN, received the DAISY Award for excellence in nursing this month, having been nominated by a former patient.
The patient wrote of the care Deb provided 11 years ago saying, "[Deb] met me at one of the lowest points in my life, medically and personally, and believed in me before I ever did."
Calling Deb a "special person," the patient also considers her a friend and savior. The patient went on to commend her kindness and knowledge.
"Thank you for experiencing so many highs and lows with me," the patient wrote. "I'm blessed our paths crossed."
Chief Nursing Officer Betty O'Connor, left, and Director of Nursing Provider Services Kathy Steinmann, right, presented Deb with her award.
About the DAISY Award
In November 1999, the family of J. Patrick Barnes formed the DAISY Foundation as a way to express their profound gratitude to nurses for the work they do for patients and their families every day. DAISY is an acronym for Diseases Attacking the Immune System. Pat died at age 33 of complications of Idiopathic Thrombocytopenic Purpura (ITP), a little known but not uncommon auto-immune disease. In 2015, Crouse became a DAISY-affiliated hospital, and presents an award to a deserving nurse, selected by a committee, regularly throughout the year. The DAISY Award program at Crouse has been made possible through a donation from the Crouse Hospital Medical Staff.