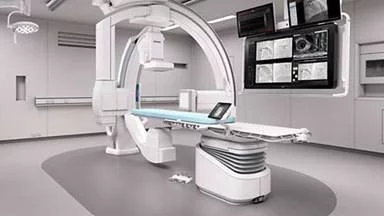 Crouse Health has started work on a $2.5 million renovation and upgrade of its 700 square-foot Pediatric Cardiac Catheterization suite, located in the hospital's Diane and Bob Miron Cardiac Care Center.
Work on the upgrade is expected to be completed by the end of November, according to Joseph Battaglia, MD, Chief of Cardiology at Crouse. The current pediatric catheterization lab was constructed in 1999 and is nearing the end of its useful life. It will be replaced by a new, next generation Phillips cardiac biplane system, which features an image-guided platform designed to provide high-resolution imaging over a large field of view for interventional cardiology, pediatric cardiology and electrophysiology procedures.
The project also calls for all new LED lighting and an increase in square footage in the procedure room to help expand circulation and maneuvering in the room.
Crouse is home to the region's only pediatric catheterization program, a partnership with Syracuse-based Pediatric Cardiology Associates that provides life-saving cardiac care to more than 150 infants, young children and teens annually.
In addition to the pediatric cath suite, the Miron Cardiac Care Center features two adult cath labs and an adult electrophysiology lab. Between the four procedure rooms, Crouse performs more than 2,500 interventional and diagnostic cardiac procedures annually.