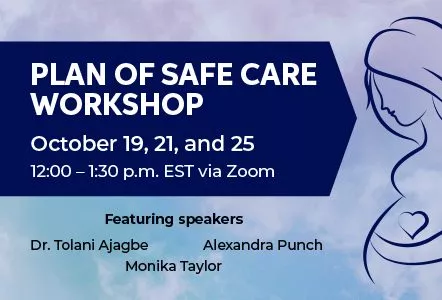 Crouse Health, the area's leading provider of addiction treatment services and maternity care, has partnered with Syracuse University's Lerner Center for Public Health Promotion and Population Health to present the Plan of Safe Care workshop.
Subject experts will present the material via Zoom from noon to 1:30 p.m. on three dates during October: Wednesday, Oct. 19; Friday, Oct. 21; or Tuesday, Oct. 25 . The workshop is free; CME/CASAC credits are available. Register at the Zoom links provided below for any of the sessions.
The workshop is intended to educate providers and community workers about implementing federally mandated planes of safe care for pregnant women with substance use disorder. The material will cover The Child Abuse Prevention and Treatment Act; statistics on Neonatal Abstinence Syndrome and Fetal Alcohol Syndrome and their associated healthcare costs; and developing a plan of safe care.
The discussion with three of the area's leading experts in the treatment of substance use disorder will include Tolani Ajagbe, MD, medical director, and Monika Taylor, MBA, LCSW, CASAC, director, from the Crouse Addiction Treatment Services, as well as Alexandra Punch, MPA, associate director of the Lerner Center. Punch and Taylor authored a research brief, funded by the Mother Cabrini Health Foundation and released by the Lerner Center in 2021, titled "Pregnant Women with Substance Use Disorders Deserve Plans of Safe Care."
"Substance use among women who are pregnant is a growing public health issue, with approximately 340,000 newborns affected by prenatal exposure to illicit drugs annually," according to Taylor. "Plans of Safe Care are necessary to give mothers autonomy and dignity in addressing their substance use while preparing to become a parent."
The Lerner Center received grant funding from the Mother Cabrini Health Foundation to develop an educational curriculum on Plans of Safe Care for healthcare providers and addiction treatment