Clocktower Café Menu Smartphone App
"Bite by Sodexo" is available as a free download in the App Store and on Google Play and offers:
Today's menu with nutritional information
Ability to set controls on options for dietary restrictions and allergies
Syncs with FitBit for overall calorie and intake tracking purposes
Overall wellness content, beyond nutrition-related support
Make it with MoJo!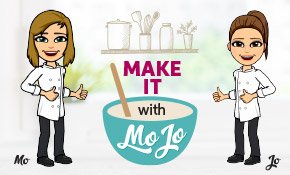 Try these healthy recipes, suggested by Crouse Health dietitians Maureen Berical and Jolene Hoskins.
Cauliflower Stuffing
Apple Cinnamon Steel Cut Oats
Vegetarian White Bean Chili
Red Lentil Pancakes
Baked Chicken Tortilla Cups
Tofu Stir Fry with Peanut Sauce
Roasted Salmon with Ginger Brocolini, Mushrooms and Edamame
Greek Chicken Roasted Cauliflower Meal Prep Bowls
No-Bake Energy Bites
Greek Lentil Salad
Pub-Grub Veggie Burgers
Kale Smoothie
Corn, Black Bean and Quinoa Salad
Curried Tuna Salad Snackers
Vegan Burrito Bowl
Turkey, Vegetable and Hash Brown Quiche
Easy Asian Snack Mix
Instant Pot Chicken Tortilla Soup
Apple Sage Wild Rice Stuffing
Apple Blueberry Crisp
Easy Whole Grain Recipes
Turkey Chili
Summer Corn & Bean Salad
Gluten-Free Berry Pizza
Roasted Vegetable with Walnuts, Basil and Balsamic Vinaigrette
Summer Quinoa Salad
Low-Cal Shamrock Shake
Healthy Apple Crisp
Get 7 Healthy Tips from MoJo – click here!
Understanding Food Labels
Check out these resources that help explain why serving sizes, percentages, and daily values are important. Do you know how to figure out how many servings are in a package, which nutrients are important and which you should limit?
Daily Calorie Allowance
A quick guide to reading food labels
Have fun with this short music video
Comprehensive (yet easy to read) guide from the Food & Drug Administration
FDA webpage on food labels
Daily Food Plans based on your calorie allowance
Dietary Roadmap
This is a roadmap. Learn how to stay full, longer. See how you can swap ingredients when cooking. How moderation can help you.
Simple Steps, Your Way
Getting Your Protein
Choose My Plate 10 Tips Series – find the strategy that is right for you
Daily Food Plans based on your calorie allowance
Interactive Sites
ChooseMyPlate.gov
Plan, analyze, and track your diet and physical activity. Find out what and how much to eat; track foods, physical activities, and weight; and personalize with goal setting, virtual coaching, and journaling.
Mindful by Sodexo
It's all about balance, in every aspect of life – sign up for challenges, giveaways, and to receive helpful information.
Shop Smart! Take a tour of the grocery store to learn about shopping healthy at a reasonable cost.
Rethink Your Drink
The average American eats about 175 pounds of sugar a year, or roughly half a pound a day. The single biggest source of that sugar comes from sugary drinks. Extra calories from sugar leads to weight gain that can put people at risk for lifelong health problems such as diabetes and heart disease.
Coolers in the hospital's Clock Tower Café and at Jazzman's Café in the hospital's main lobby sport signage that visually assists diners in selecting beverages that are, based on calories, better choices. In order to encourage healthier beverage choices and discourage options that contribute to chronic disease, beverages are designated as green, yellow or red. Green beverages are those under 50 calories; yellow between 50 and 150 calories; and red marks drinks with 150 calories or more. In order to prevent these health risks, replace soft drinks with water, seltzer, fruit juice, and low-fat/fat free milk.
Share your tips and tricks!
Help others by sharing your experience. What have you done to tweak your habits or "Rethink Your Drink"? Contact Simply Well to share tips and tricks that worked for you. Experiences will be posted on this page (may remain anonymous according to preference).

Careers at Crouse
We offer a wide range of clinical and non-clinical career opportunities.
Search for a Job

Careers at Crouse
We offer a wide range of clinical and non-clinical career opportunities.
Search for a Job