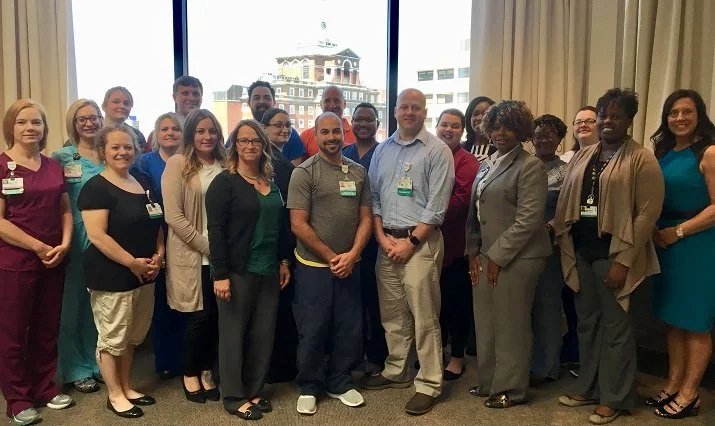 A long-held Crouse value that we continually strive to achieve is creating a dynamic work environment for all employees.
We do so through fun events, such as the annual Employee Service Recognition Week picnic each May, as well as through activities designed to help employees grow personally and professionally.
We also present internal training classes for clinical and non-clinical staff, including the Gold Program, for new members of the management team, and Nurse Academies for various specialties, including the OR and NICU.
Aligned with our mission, vision and values, as well as our strategic focus on diversity and inclusion, the inaugural Crouse Future Leaders class includes 21 participants with diverse perspectives and experiences across all areas of the organization.
The group met recently for the first time, beginning a nine-month journey that will prepare them to contribute to the success of the Crouse Health system. In their class meeting times, participants will hear from presenters in various departments of the Crouse family on topics including the Components of Leadership, Managing Stress, Quality in Healthcare and Finance 101.
The group, pictured here with Crouse Health President and CEO Kimberly Boynton, began the first meeting by sharing their backgrounds and what they hope to gain from the experience.
The 2018-2019 Crouse Future Leaders are:
Evan Belanger, Neurosurgery NP, Crouse Medical Practice
Mark Caccavale, RN, 6 South Irving
Kyle Cashel, IT
Erin Christopher, RN, NICU
Kate Colabufo-Swift, Team Leader, OR/Surgical Suite
Ryan Dempsey, Pharmacist
Ryan Eastman, RN, ICU
Bessie Gilliam, Patient Account Rep
Nicole Graham, Charge Nurse, 4 South Irving
Janelle Harris, DSRIP Patient Advocate
Lindsey Hart, Care Manager
Patrick Hoffstead, CT Technician
Janyl Jones, Secretary, Commonwealth Place
Queen Lane, Chemical Dependency Therapist, 410 S. Crouse
Shannon Leahy, RN, Med-Surg Float Pool
Karla Piazza, RN, NICU
Leah Pitts, Support Supervisor, Crouse Medical Practice
Pamela Rowlands, RN, Emergency Room
Alexander Savich, PA
Tonya Swift-Freeman, Secretary, Witting Surgical Center
Amy White, Pomeroy College of Nursing Faculty
Crouse News is reported by members of our Communications Team.