MaryJo Kravec from Advance Media NY interviewed Crouse Health pulonary and critical care medicine physician Viren Kaul, MD, about his experience during the COVID-19 pandemic. We thank Advance Media for allowing us to share his story here, which appeared in the Sunday, July 11, 2021 "Healthcare Heroes" supplement to The Post-Standard.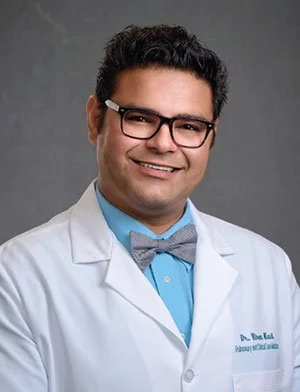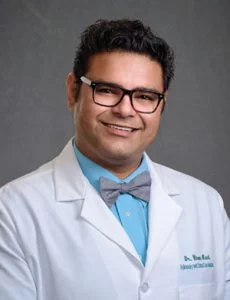 Responsibilities:
I provide care for the critically ill patients in the Iintensive Care Unit at Crouse Health and pulmonary patients at Crouse Medical Practice. I have also fortunate to provide care for patients with lung diseases such as asthma, COPD, pulmonary hypertension and interstitial lung diseases in the ambulatory setting as well as inpatient. Finally, I perform procedures related to lung diseases.
How long have you been in that position?
Been practicing in Syracuse for nearly two years now.
What inspired you to go into healthcare?
It's a blessing to be able to provide care for people at a time when they are most vulnerable. Being able to make their day and lives better in any way is something that drove me to pursue life as a clinician since high school.
It's been a long haul… looking back, what words would you use to describe it?
I'll start with the positives: Efficient and caring collaboration across all disciplines is what stood out during this pandemic. Phy-sicians, trainees, nurses, respiratory therapists, physical therapists and all affiliated staff rose to the occasion together. It was a bonding period like no other. We could not have gotten through without each other. The hard parts were specifically watching the degree of suffering that was wrecked, on individual patients, their loved ones and the community at large.
What were your shifts like (how many hours, days of the week)?
In the ICU, we were typically working for the assigned shift period 7 a.m. to 7 p.m., however we often came in much earlier or stayed later to spend time with patients or deal with a crisis at the peak of the pandemic. What cannot be adequately captured by the hours spent on the ICU floor is the countless hours consumed by planning meetings, preparation for escalation of services, or meetings to collaborate with other services since the situation was so fluid. It was also important to keep our knowledge and application up to speed, and critically consume the amount of research that was produced in the last year. For perspective, tens of thousands of articles were published in a short period, and to take care of patients, it was important to stay on top of the literature. This was usually done well after getting home, spending a short bit of time with my wife, and usually took hours pushing bedtime well past the usual.
What was a typical day like during the worst parts of the pandemic?
A typical day started with "pre-rounding" on our ICU patients. I usually started checking charts for updates approximately 6 a.m. Rounds with our ICU team started at 8:30 a.m. and lasted up to 11 a.m. to noon. With our typical census, I was able to complete rounds by 10:20 a.m., but there were several days at the peak where rounds went past noon due to the high number of patients who were very sick. The afternoon would be spent in helping the team reach out to family members of all ICU patients since no visitation was allowed. It was gut wrenchingly difficult to provide updates to families when they could not see their loved one and often heard hard news without even being able to hold their family member's hand. Evenings were spent in strategic meetings to ensure coordination of care with our fantastic ICU staff, making plans for the next day, getting their input and ensuring adequate resources for them to be able to provide bedside care.
Was there a moment or interaction with a patient or coworker over the last year that stood out as meaningful, and what was it?
Many of us lost a colleague, a friend or someone we knew well. I took care of someone who was well known to our family. It felt personal. Days like that wore on your resolve. The next day, the patient's significant other called me and said, "[they] knew you did your best, and we love you for it." It was a short conversation, but it kept me going. Another instance that certainly stands out is someone we took care of for weeks in the ICU and I recently saw for follow up in the pulmonary clinic. He told me he drove himself to the clinic. We FaceTimed our ICU staff, and if there was a way for me to capture the joy in the (still digital) reunion, it would light up bright as a thousand suns.
How do you deal with stress of such a challenging situation — the long hours, tragic circumstances, risk of being infected, etc.
I leaned deeply on my wife, Lauren, who kept reminding me that our hard work would help us get past this stressful time. She was my rock during this time. When the dark thoughts arose (as they do for most of us), she was my guiding star. I also depended on my partners at Crouse Critical Care. They were a source of inspiration and reminded us often to continue doing what we trained to do and were very proud of doing for our community. Finally, having open and honest conversations with our trainees and ICU staff was satisfying, since it reminded us that it was OK to feel the way we were, but also created a supportive environment at work.
What kind of emotional impact did it have on you?
I certainly would not wish for any of us go through a public health catastrophe of this scale again. While I did experience the full gamut of emotions — from happiness for patients who got better, to the fear of being exposed and getting the disease — the overwhelming memory is of being grateful for having trained to be a pulmonary and critical care physician.
How did it impact your family life?
My wife is an ER nurse, and my brother was working on the front lines as a resident near NYC. Knowing that my family was providing care to patients sick with COVID-19 made me proud, but there was a constant internal fear for the better part of the year regarding their safety. My parents live in India and the recent surge in the global cases did make me feel helpless since all we could do was provide them support and wish them health over the phone. Some days that did not feel enough. Not surprisingly, they were all such soldiers through 2020. In terms of daily life, the pandemic disrupted our social life since my wife and I were in high-exposure settings, and for nearly six months did not meet any friends or family in person to avoid potentially exposing them to the infection. This was immeasurably hard.
What are you most optimistic about right now?
Vaccination! I hope that we continue to see increasing rates of vaccinations in the community so we can significantly curb transmission, not lose any more patients to this horrid disease and return full scale to our personal and professional lives.
What are you most worried about?
This pandemic will have long term ramifications of several aspects of our lives, medically and otherwise. But my major concern as a pulmonologist is the lasting impact this virus has on some patients. As we learn to provide post-ICU care for the critically ill patients, I worry about ensuring that they receive the long-term care they require, which often spans the realm of pulmonary medicine, cardiology, neurology, psychology, psychiatry, therapy, nutrition, sleep medicine, amongst other specialties. As one can imagine, just like we felt the strain during surge periods in our hospitals and ICUs, this surge in long term needs of our patients will need attention.
What advice would you give to others thinking about a career in healthcare?
It is the most satisfying life choice you will make. Act on it.
---
Dr. Kaul was recently named a 2021 Laureate Award recipient by the New York Chapter of the American College of Physicians. >> LEARN MORE
He is welcoming new patients at Crouse Medical Practice. Call 315-479-5070 to schedule an appointment.
RELATED LINK: Thank you letter from COVID-19 survivor Tom Dwyre to Crouse Health.
Crouse News is reported by members of our Communications Team.