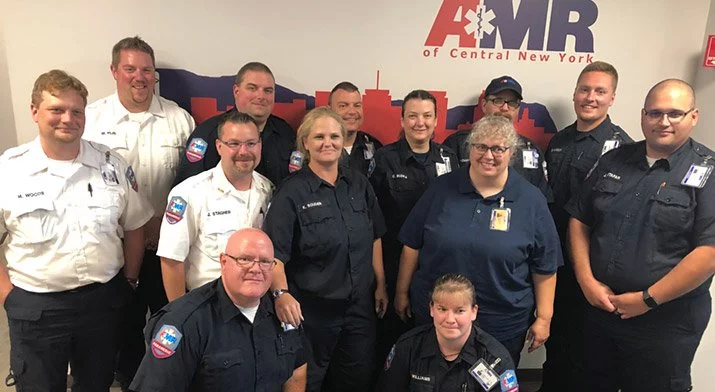 Patients in small villages, towns and cities across upstate New York often require more intensive specialized care than their local healthcare facilities can provide.
That's why Crouse Health and American Medical Response (AMR) ambulance service are partnering to fill a critical need for the efficient transport of these patients to Crouse, while they are being tended to by skilled emergency medics along the way.
The Critical Care Paramedic Transport Program is a new collaborative initiative between Crouse and AMR that is providing extensive advanced training to paramedics.
Michael Jorolemon, DO, is the Senior Quality and EMS Integration Officer at Crouse's Pomeroy Emergency Services Department. A firefighter paramedic, Dr. Jorolemon worked closely with AMR to develop the course, based on a national curriculum, and recruit instructors from a wide range of specialties, including obstetrics and gynecology, sepsis, trauma, burns, hematology, neurology and infectious diseases.
Paramedics are required to complete 2,000 hours of training. The additional 100 hours of instruction in the new program has a dual benefit, according to Dr. Jorolemon. "Not only will our students care for patients during long critical-care transports, but the training will benefit emergency 911 calls in our own community," he says.
Crouse has dedicated 1,500 hours of personnel time, plus classrooms, parking, equipment use, and other resources and support to provide the training. "We see this as investment in the care of patients across the upstate region," says Seth
Kronenberg, MD, chief operating officer/chief medical officer.
"Many transports from other facilities to Crouse occur each month. It is part of our mission to assist our colleagues and their patients in outlying areas."
Crouse News is reported by members of our Communications Team.