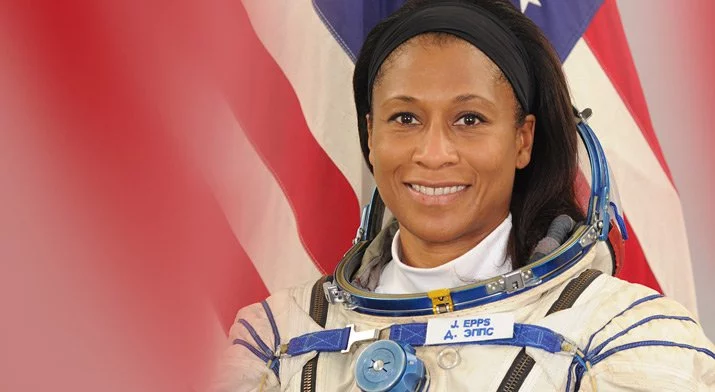 "My mother always told me 'Everything is hard until you learn it.'"
And it's apparent that Jeanette Epps, PhD, former Crouse employee who's now a NASA astronaut, took her mother's belief about education to heart.
The Syracuse native graduated from Thomas J. Corcoran High School in 1988, and earned a Bachelor of Science in Physics from Le Moyne College in 1992. Passionate about her studies, she went on to the University of Maryland, where she earned a Master of Science and Doctorate of Philosophy in Aerospace Engineering in 1994 and 2000.
A guest speaker during Crouse's Black History Month programming this month, Dr. Epps talked about her time at Crouse while she attended college. She worked part-time in our Nutritional Services department between 1989 and 1992.
"I learned the value of hard work at Crouse. I also learned how to appreciate the work I do," Dr. Epps said. She was able to take what she learned from Crouse and use it to achieve advancement within her career path, working as a woman in STEM (science, technology, engineering and mathematics).
Epps continued her career as a Technical Specialist for Ford Motor Company, spending most of her time in the company's Scientific Research Laboratory. She then moved on to join the Central Intelligence Agency (CIA), spending more than seven years working as a Technical Intelligence Officer and earning several performance awards for her work.
Currently, Dr. Epps works for NASA, where, in 2009, she became one of nine members of NASA's 20th astronaut class. During graduate school, Dr. Epps had served as a NASA Fellow, conducting research, in-depth testing and analysis.
According to the Washington Post, women are still a minority at NASA, making up just 24% of the organization's employees. NASA's workforce data shows that only half of these women are African-American.
Dr. Epp's achievement of having become one of the few African-American astronauts at NASA is a testament to her perseverance and resiliency. "Other people have no clue what's inside you and what you're capable of," says Dr. Epps. "Only you know."
Women empowering women is important to the development of society and the self-esteem of women. Education and encouragement were strengthening factors in the relationship between Dr. Epps and her mother. Now Dr. Epps serves as a role model to African-American women and women of all races and backgrounds who want to succeed, achieve their goals and make a difference.
Positive role models influence our actions and motivate us to work until we've reached our highest potential, as they pave the way for those coming after them. As Dr. Epps says, "No astronaut can fly alone."
Kaelyn Lowe is a Public Relations graduate student at Syracuse University's Newhouse School and a spring 2020 communications intern at Crouse Health.