>Click here to view a photo gallery from the event!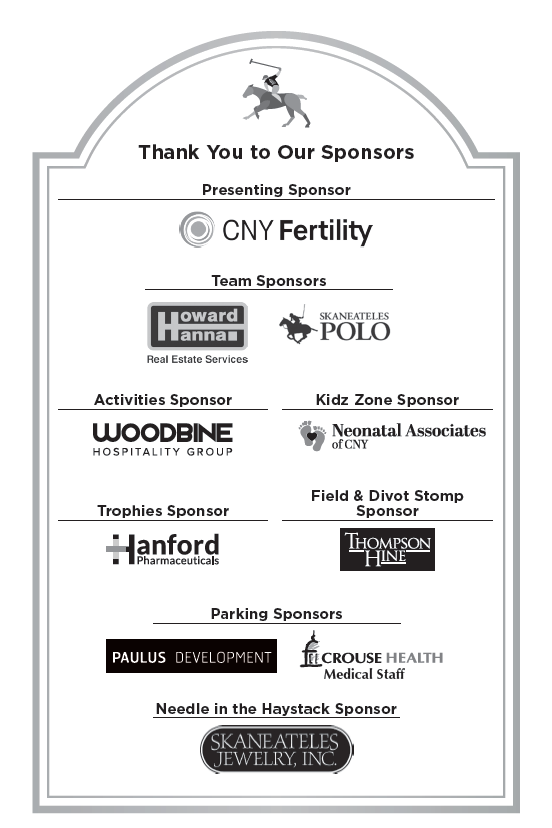 Crouse Health Foundation's 6th annual Crouse Health Polo for Preemies was held on Sunday, July 30, at the Skaneateles Polo Club. Attendees enjoyed the beautiful afternoon as the Howard Hanna Real Estate Services team won the polo match for the 4th year in a row. Over $60,000 in net proceeds will benefit Crouse Health's Baker Regional Neonatal Intensive Care Unit.
Pre-match festivities began at 1 p.m. for guests to socialize and enjoy music by DJ Tino Rossi. Family-friendly activities included pony rides, bounce houses, arts & crafts and lawn games. Chances to win were offered throughout the afternoon featuring our popular Needle-in-the-Haystack with contestants vying for a horseshoe necklace donated by Skaneateles Jewelry, Inc. Delicious food and beverages were available for purchase. The polo match began at 3 p.m.
Committee Chair, Mark Re served as program emcee. Bethany Kish helped open the afternoon by singing the National Anthem.
Proceeds from Polo for Preemies will support the care of the region's premature and critically-ill newborns at Crouse Health's Baker Regional NICU. These "Little Fighters" receive exceptional care from a dedicated, expert staff of neonatologists, nurses and pediatric specialists at the highest level NICU in our 14-county region.
For more information and inquiries about our 2024 Crouse Health Polo for Preemies, please contact the Crouse Health Foundation office at 315-470-7702, crousefoundation@crouse.org.