The DAISY Award is given out each month at Crouse to an individual nurse who has gone above and beyond in their patient care.
This month, a DAISY Nurse Leader Award was given to a leader who "impacts staff and/or the patient care they manage by role modeling extraordinary behavior and creating an environment where attributes of trust, compassion, mutual respect, continued professional development and ethical behavior are modeled and supported."
Megan McCabe, RN, Cardiac Services Nurse Manager, was nominated by her staff for the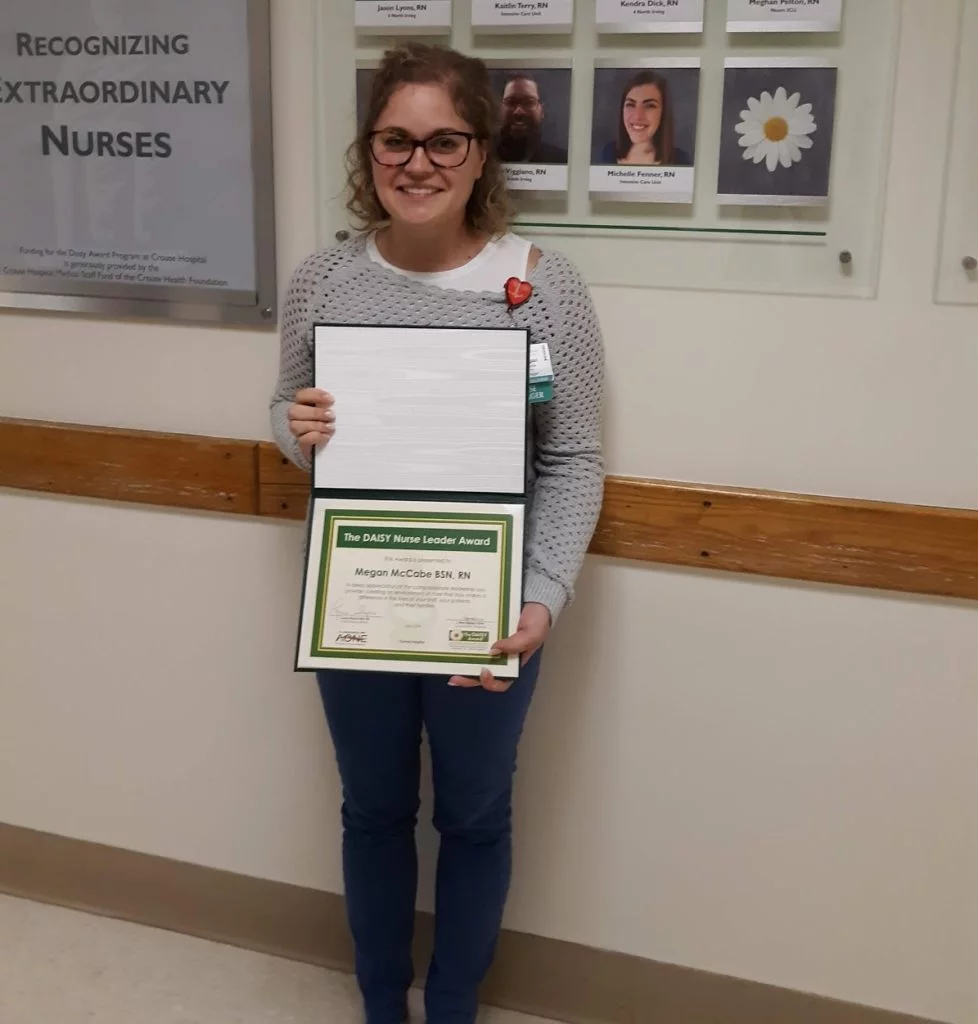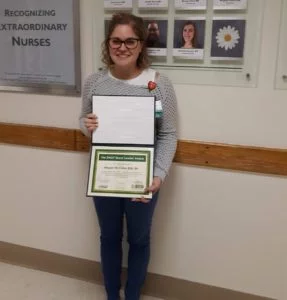 DAISY Leader Award because she has created an environment that is simultaneously patient-centered and supportive of staff. Megan, center, was joined by members of the Cardiac Care team, as well as Seth Kronenberg, MD, Chief Medical Officer/Chief Operating Officer and Lynne Shopiro, Interim Chief Nursing Officer (far left), for the award presentation.
The staff commended Megan, saying they each love their job and that wouldn't be possible without her leadership.
Megan never loses sight of that fact that above all else, we are here to give the best possible patient care. Every conversation with Megan includes her asking what is best for the patient. She always has a smile on her face and something nice to say to every patient she interacts with.
Not only is patient care her concern, but Megan is also always mindful of the hospital as a whole. She checks in with other departments to if there is any way for her team to help.
Megan treats each staff member as an individual and genuinely respects and values every person on her team. Her team says that work-life balance is a high priority in Megan's management style and they are all grateful for it. She encourages her team to achieve their professional and educational goals and makes the scheduling accommodations for them to do so.
The nomination concluded: "It is difficult to choose just one instance in which Megan stood out as a leader. She constantly advocates for staff and patients. She leads by example and her passion for cardiology is evident every single day. She is respected and appreciated by our staff more than she probably realizes."
Thank you, Megan, for being a great leader, mentor and advocate, and one who practices cardiology with carepassion.
Nursing at Crouse
Are you an RN who wants to work in a mission-focused organization that values and recognizes excellence in nursing practice? Then search our open positions and come to Crouse!
> Search Open Positions Now

About the DAISY Award
In November 1999, the family of J. Patrick Barnes formed the DAISY Foundation as a way to express their profound gratitude to nurses for the work they do for patients and their families every day. DAISY is an acronym for Diseases Attacking the Immune System. Pat died at age 33 of complications of Idiopathic Thrombocytopenic Purpura (ITP), a little known but not uncommon auto-immune disease. In 2015, Crouse became a DAISY-affiliated hospital and presents an award to a deserving nurse, selected by a committee, regularly throughout the year. The DAISY Award program at Crouse has been made possible through a donation from the Crouse Hospital Medical Staff.