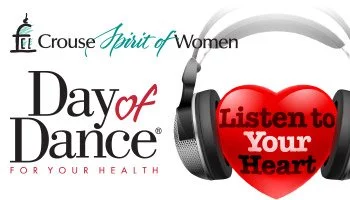 Listen to your heart and show us your moves at Crouse Health's fifth annual "Day of Dance" presented by Crouse Spirit of Women on Saturday, April 7, from 11 a.m. to 2 p.m., in the Canyon area of Destiny USA. The free event is open to the public, but pre-registration is requested by visiting crouse.org/dayofdance or calling 315-472-2464.
Amy Robbins, the popular morning drive-time radio personality from 93Q, returns as emcee of the three-hour event. Free refreshments, prizes and educational items will be offered. The first 300 children at Crouse KIDS care will receive a free surgical cap and stuffed animal. They will also have the opportunity to create their own art with staff from the Everson Museum of Art.
The Day of Dance, themed "Listen to Your Heart," will also feature free mini dance classes, with a special visit by Otto and the Syracuse University Dance Team. Crouse Health experts will provide derma scans and screenings for blood pressure, sleep apnea, TMJ, foot issues and more. Integrative Medicine practitioners will provide complimentary chair massage and Reiki treatments.
"Crouse is pleased to present this fun and educational event for all ages again this year," says Kathleen Miller Murphy, RN, CCE, BSN, manager of community engagement. "We thank the Central New York community for the ongoing interest in and support of our Spirit of Women program."