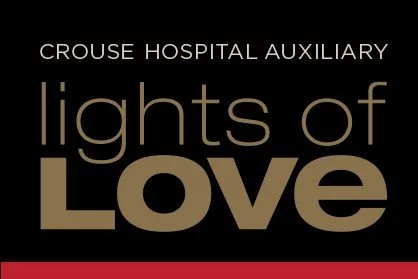 The holiday season is upon us and with it one of Central New York's most glowing traditions: the annual Crouse Hospital Auxiliary Lights of Love campaign.
Each of the 3,000 lights on the iconic Crouse clock tower are illuminated, representing gifts — given in honor or in memory of someone — that will support the hospital's ability to provide comprehensive medical services and programs for our community.
Each year proceeds benefit a different Crouse program or service. For this 32nd anniversary year, proceeds will support the Auxiliary's ongoing commitment to the Pomeroy Emergency Services Department at Crouse Hospital. Auxiliary funds have helped purchase a wide range of equipment, underwrite staff training, and fund special initiatives, such as the Geriatric Emergency Department Accreditation (GEDA) received by the department this year. This newly-available recognition in this specialized area of emergency medicine required the addition of geriatric-friendly equipment, as well as advanced staff education for screening for delirium, dementia and fall risks. GEDA signals to the public that Crouse Health is focused on the highest standards of care for our community's older adults.
Doing the lighting honors this year will be Scott Grigor, husband of Linda DiBello Grigor, a longtime Crouse nurse and member of the Crouse Hospital Auxiliary's Board of Directors, who passed away this year. Linda embodied the Crouse community spirit as she loved the annual Lights of Love campaign and each year she and her husband proudly drove the Crouse float, featuring the decorated clock tower, in the annual Syracuse St. Patrick's Day parade.
Contributors and community leaders are invited to attend the lighting ceremony and reception on Monday, Dec. 2, from 4:30 to 6 p.m.
The Presenting Sponsor for the 2019 campaign is Bottar Law, PLLC. Campaign Sponsors are Family and Friends of Linda DiBello Grigor; Carrie Berse, Chris Skeval and family; Kimberly, Charlie and Henry Boynton; Connie Bull; Frank C. Smith, MD; Creative Florists; St. Agnes Florists; John and Jennifer Funiciello; The Cadaret Family; and Cell Phones For Less, Inc. An in-kind donation of billboard advertising has been donated by Lamar Outdoor Advertising. This year's campaign was chaired by Janet Izzo, with assistance from Robin Ascioti and Jeri Gallauresi.
Since 1888, the Crouse Auxiliary has raised millions of dollars to help fund hospital equipment, programs and services as well as nursing scholarships. The group, which includes more than 500 community members, generates funds from sources special events, various drawings, book sales and membership dues.
To learn more or to purchase a light, call 315-470-7530 or visit crouse.org/lights.