Joshua Wolfe, a member of our Nutritional Services team, is the latest recipient of the BEE Award.
The BEE Award – Being Extraordinary Everyday – was created to honor non-nursing staff who support Registered Nurses in meeting our mission of providing the best in patient care. Any colleague outside of nursing is eligible for the BEE Award.
Joshua was nominated for the award by Sara Dineen, RN, from the Pediatric Recovery Care Center, for his care and attentiveness toward a patient and his family on the unit.
"Joshua brought a pediatric patient his dinner tray and then asked the parents if it was okay to bring him some gummies," Sara said. "He got these for the patient simply because the patient was staying in the same room Joshua had many times as a patient here at Crouse himself."
Just wanting to brighten the child and his family's day, Joshua also brought the patient's father a Pepsi because he mentioned wanting one.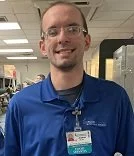 "He really cares about the patients here at Crouse," Sara wrote in her nomination.
We thank Joshua for taking time out of his day to make a patient's day a little better.
To learn more about the BEE Award, or to submit a nomination, visit crouse.org/BEE.