Experienced RN Benefits & Incentives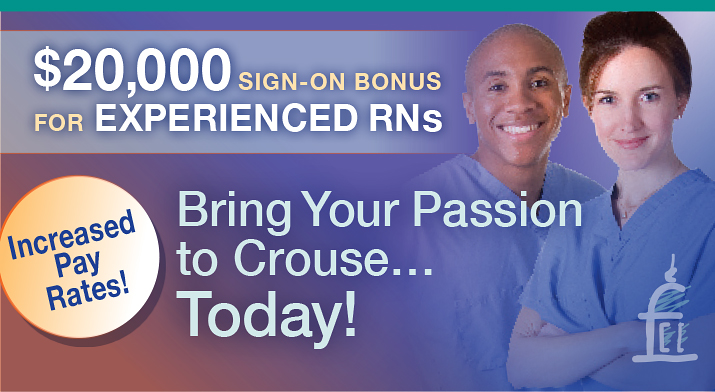 Crouse nurses exemplify our culture of family-oriented Carepassion: they care deeper, listen closer and treat each patient, family member and co-worker with the respect and dignity they deserve.
We're hiring mission-focused, experienced RNs with a passion for bedside nursing. Talented people with positive attitudes. Professionals who provide an exceptional experience with each and every patient encounter. Bring your experience to Crouse!
✓ INCREASED PAY RATES FOR NURSES
✓ Relocation
✓ Student Loan Payback
✓ Competitive pay scale
✓ Generous health and wellness benefits
✓ Inclusive culture
✓ Supportive family environment
✓ Comprehensive low-cost insurances
✓ Hospital contribution to 401k
✓ Tuition reimbursement after 90 days for BSN
✓ Work-life blend, with flexible scheduling
✓ Opportunities to enhance clinical growth and advancement
✓ Clinical Ladder with Nursing Pathway program
✓ Professional autonomy
✓ Collaboration: Unit Based Councils/Nurse Practice Council
✓ Recognizing nursing excellence through the DAISY Award
* Incentives as listed reflect full-time employment and will be pro-rated based on part-time status.
TALK WITH A RECRUITER!
Complete the quick form below to get started on your career at Crouse.