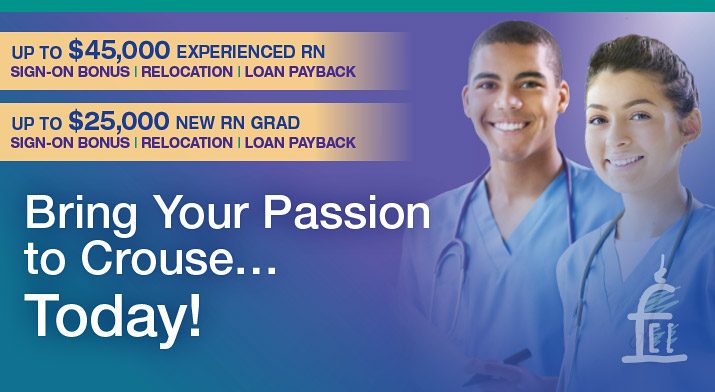 New Sign-On Incentives for
Experienced RNs…New Graduate RNs
Bring Your Passion to Crouse…Today!
In support of our mission to deliver the best in patient care, we are putting in place specific strategies and incentives to encourage qualified bedside RNs to bring their passion for patient care to Crouse.
Experienced Nurses
Sign-on Incentive: $30,000; $35,000 (nights)
Relocation: $5,000
Student Loan Payback: $5,000
New Graduates
New Grads: $15,000
Relocation: $5,000
Student Loan Payback: $5,000
Please note: Incentives as listed reflect full-time employment and will be pro-rated based on part-time status.
Compassion for our patients and the determination to make a difference in the lives of others is what makes Crouse nurses exceptional.
---
We're hiring in numerous areas, including:
Medical/Surgical • Emergency Services • Surgical Services/OR • Obstetrics • Neonatal Intensive Care • Addiction Treatment Services
---
In addition to competitive pay, you also receive:
Opportunity for incentive pay • Affordable comprehensive benefits (health, dental, vision) • Hospital contribution to 401k • Inclusive culture • Advanced education programs • Tuition support • Nurse Residency/ Academy program • Professional development programs • Supportive family environment • Vacation/personal time
---
TALK WITH A RECRUITER!
Complete the quick form below to get started on your career at Crouse.