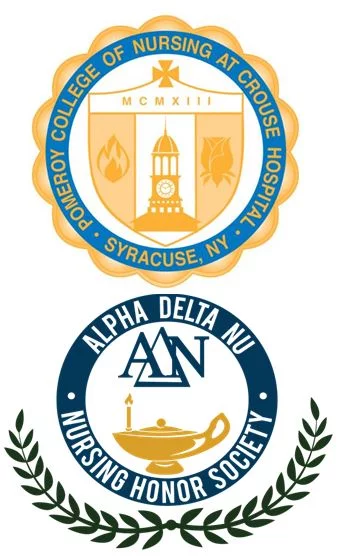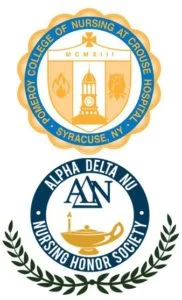 Nursing is a highly regarded profession, especially as we've witnessed over the past year of the COVID-19 pandemic. We're proud of all of our graduates and current students, and recently celebrated the achievements of 30 new members inducted recently into the Pomeroy College of Nursing's Delta Zeta chapter of Alpha Delta Nu, the National Honor Society for Associate Degree Nursing.
The fourth college in New York to be granted a chapter, the Pomeroy College of Nursing is the only associate degree program in Central New York with an Alpha Delta Nu chapter.
To be considered for membership in Alpha Delta Nu, students must have attained a 3.0 overall GPA and maintain a 3.0 GPA in their nursing courses. Students must demonstrate conduct that reflects integrity and professionalism, on campus and in their clinical rotations.
All students must also complete a Capstone project during his or her third semester. This year's inductees from the weekday program participated in ACR Health's 21st Annual First Frost Walk. The evening/weekend cohort participated in a diaper drive for CNY Diaper Bank. The students set a goal of collecting 500 diapers, which they surpassed by collecting nearly 3,000.
Please join us in congratulating the newest Alpha Delta Nu members:
Lily Allen
Rachel Baker
Faith Britt
Jessica Brittain
Jessica Campbell
Kathryn Cavanaugh
Heather Centore
Kelly Chetney
Nicole Davis
Paige Fiermonte
Madelyn Fingar
Chelsea Forgham
Lacey Foster
Katherine Graham
Lindsey Lawrence
Hannah Leahy
Shannon Leija
Nora Lorie
Jazmin Marte-Peguero
Jenna Owens
Tim Padlick
Destiny Pagan
Mary Patrick
Emina Ramic
Suanny Rivera
Sophia Roberts
Tera Schilling
Brianna Schmidt
Pramod Siwakoti
Jess Zhovkliy
Click the images below to view photos from the virtual induction ceremony.
Crouse News is reported by members of our Communications Team.