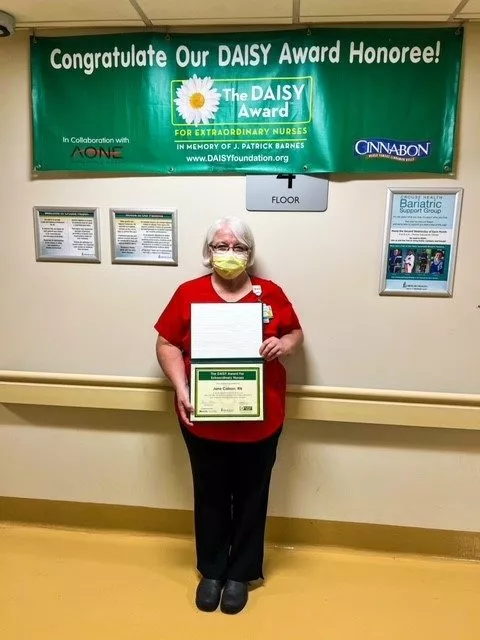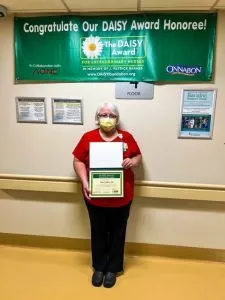 Crouse nurse, Jane Calnon, from 4 Memorial, recently received a DAISY Award for going above and beyond the expectations of a patient, who wrote the following:
"Jane, a senior nurse professional, came into my room with a smile on her face and asked how I was feeling. She proceeded to tell me the plan: I was to get out of bed, sit in a chair, eat a little something and then take a walk down the hallway. She assisted me, concerned with my comfort and safety.
After I finished my breakfast, Jane returned and helped me stand, put on my robe, and using a walker, we walked the hall. She stayed right by my side and we talked about my condition and I asked about herself. She had such a positive, compassionate attitude speaking about her career and how she was drawn to helping others. She even spoke about being there and helping to care for COVID patients for two-and-a-half years. I know this was a tough time for everyone and her obligation and oath for helping people, no matter what, was awesome and commendable.
Jane made me feel like I was her only patient that day and that my care and comfort was her priority. Her experience and knowledge, along with her dedication and compassion for others, makes her a valuable asset to the Crouse organization. Jane is a GEM! I'm sincerely grateful to her for everything."
Congratulations, Jane, on this recognition and many thanks for demonstrating the Carepassion that Crouse employees have become known for.
Crouse News is reported by members of our Communications Team.