Each month, a DAISY Award is given out to a nominated nurse for exceptional care. These nurses represent the patient experience at Crouse and the Carepassion delivered to every patient.
Once a year, we also award a DAISY to a nursing leader and team who exemplify the Crouse mission, vision and values and are models of teamwork and collaboration.
This year, during Nurses Week, the DAISY team award was presented to the nursing team of the Pomeroy Emergency Services Department. The team was nominated by Emergency Services Medical Director David Mason, MD, who noted the adversity they have faced over the last two years and their ability to rise to the challenges despite it.
"Despite all this adversity, the ED has been able to provide exceptional care while maintaining the majority of our quality indicators. The ED nursing leadership team has spent countless hours supporting the clinical team both behind the scenes and also on the front lines. Everyone has worked together to continue to provide the best in patient care for our community despite every setback and hardship," Dr. Mason said.
Congratulations to all of our Emergency Services nurses for this award!
The DAISY Nurse Leader Award was presented to Mark Caccavale, BSN, RN, CMSRN, Nurse Manager, Memorial Units. Mark was nominated by Michelle Michael-Korn MS, RN, CEN, Nursing Director of the ED and Med/Surg units.
In Michelle's nomination, she praised Mark for his leadership skills, his quality and safety measures, as well as his patient advocacy.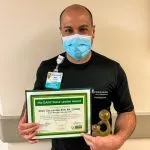 "Mark works with the Crouse values and the needs of his staff at the top of his mind. If he sees a staff member struggling, he will often jump in to help or take time to coach them. He is a great listener, and uses a balance of empathy and humor in his communication," Michelle said.
"He has initiated many new projects on the Memorial units. He has engaged the staff in creating a unit-based council, and implemented an initiative to help staff attain a work-life balance. Whenever something has to be done, Mark is usually the first one to jump in and be willing to help. He takes his time on tasks and projects, evaluating all the options so that all bases are covered. Mark is a transformational leader and his nurses are consistently upbeat and are always willing to help out."
Congratulations to Mark for this DAISY Nurse Leader Award!
Crouse News is reported by members of our Communications Team.