Research shows that the health and well-being of students is directly impacted by their learning and reading practices. Fulfilling our mission of promoting community health in all its forms, Crouse Health has partnered with the Syracuse Community Health Center (SCHC) President and CEO Mark Hall and Chief Administrative Officer Craig Williams to help city school children succeed in their educational achievements.
Crouse President and CEO Kimberly Boynton (left) and Chief Medical Officer and Chief Operating Officer Seth Kronenberg, MD, stopped by SCHC yesterday to celebrate the "Sustain the Gain" Summer Reading Healthcare Initiative and meet some of the participating students and families.
Crouse's donation of nearly $4,000 is providing a book to 250 second through fifth grade students and their families to help encourage increased reading habits at home.
According to Jackie Grace (right), a retired school administrator, storyteller and motivational speaker, the associated health benefits of reading include brain development; improved memory, concentration and thinking skills; and relaxation and better sleep. High literacy rates also help children by enhancing self-esteem and habits that boost health, happiness and life successes.
Another important by-product of reading is that the activity promotes social-emotional well-being by fostering empathy, compassion, respect and acceptance, which are woven into Crouse's guiding principle of Carepassion.
"The Crouse Health mission comprises our commitment to promote community health for residents of all ages," says CEO Kimberly Boynton, who accepted a gift of flowers from a family member. "We're pleased to be able to help position these young students for school success and good health."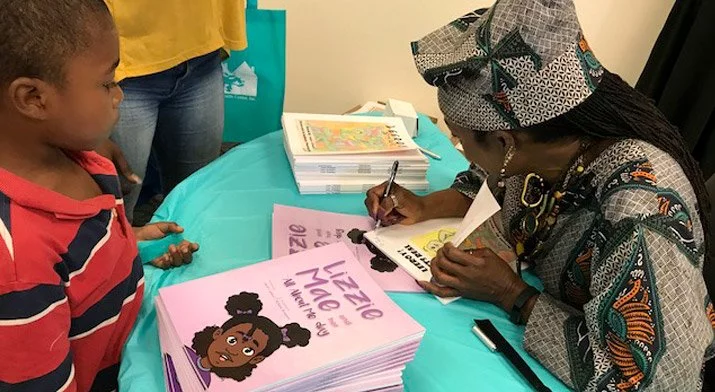 The initiative is particularly meaningful because the provided books — Leeroy: The Wide Mouth Frog; Leeroy Gets Real; and Lizzie Mae and Her "All About Me" Day — have been written by Ms. Grace, also a local author with whom the students are able to forge a personal connection.
The "Sustain the Gain" kickoff book party was timed to coincide with National Health Center Week and was part of SCHC's planned festivities to spotlight the center, which is a Federally Qualified Health Center serving the Greater Syracuse area and Onondaga County. Founded in 1978, SCHC serves more than 34,000 patients each year by providing comprehensive primary care, dental and mental health services to residents, especially to those who might have limited access to healthcare. SCHC staff also assist individuals in obtaining access to specialty and hospital care services not provided by the center.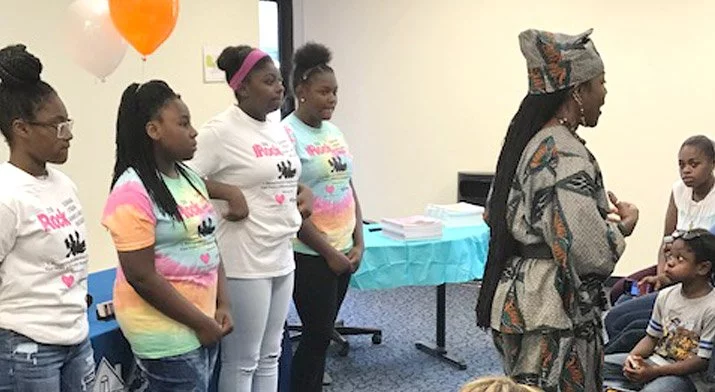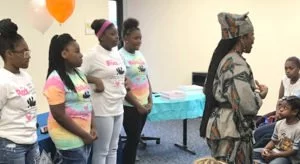 Crouse's partnership in "Sustain the Gain" is an outreach partnership under the auspices of the health system's diversity and inclusion initiative. Ms. Grace was a guest speaker during a Black History Month program at the hospital this past February. The initiative has also connected Crouse with literacy ambassadors of a local organization called Girls Rock. "Together with Ms. Grace, they told a wonderful story to those in attendance," says Twiggy Eure, diversity and inclusion director at Crouse, who participated in SCHC's Community Involvement Day on Thursday and Kids Health Fair Day on Friday.
Crouse News is reported by members of our Communications Team.