There are many health resources available to help you on your journey to become Simply Well. Preventive screenings, primary care and obtaining an annual physical are an important part of this journey.
Preventive Screenings & Health Services
Did you know that most health insurance plans cover annual physicals, scheduled immunizations and recommended preventive health screenings? As a result of the Affordable Care Act (ACA), these services are often covered at no cost to you. Here are the ACA guidelines for covered preventive services:
Check with your health plan to verify coverage. Members of the Crouse Hospital Employee Health Plan may contact Excellus to verify coverage at 855/737-0760. If you do not have insurance coverage, please contact Human Resources to discuss options that may be available through Crouse Hospital or the Health Insurance Marketplace.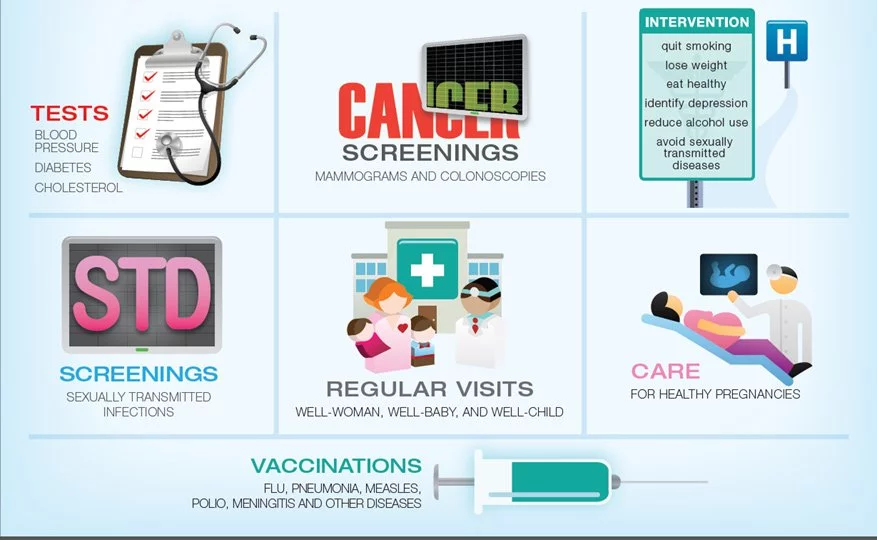 Why Primary Care?
Have you ever wondered why it is so important to have a Primary Care Physician (PCP)? Primary care clinicians ensure that patients get the right care, in the right setting, by the most appropriate practitioner in a manner that considers the patient's desires and values.
Think about it like this, you, the patient, are the quarterback of your health and quality of life. You have the freedom to make decisions that will impact your health and happiness. Your primary care doctor is the head coach, who creates and tailors the game plan and equips you with the right tools to help you drive your care plan in the right direction. And over time, you and your doctor form a relationship – you get to know each other. Together, you can catch small health problems before they become serious.
View Crouse Health Network Primary Care Providers
Preventive Services
Colorectal Cancer Screening
Colorectal Cancer Screening recommendations have changed. People of average risk are now recommended to begin screening at age 45 (previously age 50). The Crouse Employee Health Plan will begin covering screening services age 45 and older as of January 1, 2022. If you are high risk or have family history, screening should begin earlier, speak with your doctor about when to start and which test is right for you. There are a variety of ways to be screened, including colonoscopy and various stool tests. Click here for CDC information. Read more here about risk factors, reducing these risk factors and action steps.
Breast Health
According to the National Institutes of Health, Breast cancer is the second most common cancer among American women (Feb 2022). Click here for various screening methods, risk factor reduction information and treatment strategies.
The Dr. Hadley J. Falk Breast Health Center at Crouse Hospital offers the very latest in 3D imaging technology, digital mammography, image-guided biopsy, computer-aided detection of malignancy and breast MRI with computer-aided detection. Combine this with the area's most experienced radiologists, a top-notch team of mammography technicians and breast health navigators and you can be assured of prompt, accurate screenings combined with individualized comfort, compassion and emotional support.
Schedule Breast Health Screening
Diabetes Care
Visit the below pages to access various resources related to managing your diabetes.
crouse.org/diabetes
American Diabetes Association
Sweet Truth
Prevent or slow down your chances of developing diabetes, a chronic illness that effects 30 million Americans. A healthy, balanced diet, productive exercise routine, and maintaining a healthy weight are helpful ways to lower your risk. Read more here and visit www.crouse.org/diabetes for additional resources.
Skin Care
What Picture is Your Skin Painting About Your Overall Health? Your skin is the biggest organ in the body and should be treated that way. The most common type of cancer in the United States is skin cancer, make sure you know what to look for on your own skin. Read more here.
Gynecological Health
Types of GYN cancer, symptoms and tracking time to best communicate with your provider. Also review screenings and vaccines available. Read more here.
New! Article also available in Spanish.

Careers at Crouse
We offer a wide range of clinical and non-clinical career opportunities.
Search for a Job

Careers at Crouse
We offer a wide range of clinical and non-clinical career opportunities.
Search for a Job