Congratulations to the latest DAISY Award recipient, Sean Virginia, BSN, RN, from our 6 North Irving Unit.
Sean was nominated by Linda Kurz, a Health Unit Coordinator in the NICU, who found herself in Sean's care after suffering a right frontal lobe cerebrovascular accident in April.
Linda has been a Crouse employee for 41 years, but this was her first time as a patient (aside from having her children). She was admittedly scared after the emergent situation and was admitted to 6 North to begin her recovery.
Linda first observed Sean's care of her roommate, where she noted he was kind and caring. Sean was then assigned to her care and Linda said her anxieties subsided a little due to Sean's compassionate care and professionalism.
"Simply put," Linda said, "he took the time to put his patient first."
Linda said she and Sean had many conversations on everything from their home lives to working at Crouse to what she could expect in her recovery.
"His passion for neuroscience and nursing was evident by his ability to help me begin to understand what was happening to me," she said.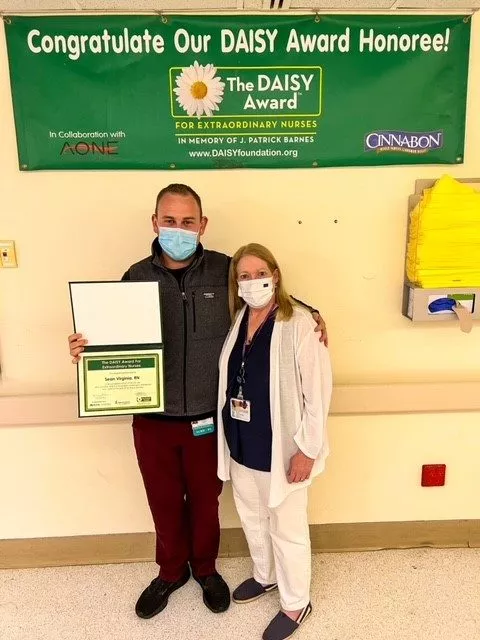 "One evening, Sean came to my room and handed me a box of Puff's tissues he had brought in for me. This had to do with a previous conversation we had about the roughness of the hospital tissues. This brought me to tears, it touched me so deeply. To him, it was a simple act of kindness. To me, a patient who had lost so much independence, it was an amazing feeling of comfort, respect, compassion, and the knowing that I was truly being cared for," Linda said.
Linda also commented on Sean's commitment to his team and coworkers, stating that he is an excellent mentor and role model for anyone coming into nursing.
Linda said, "It is with utmost pride that I am able to call Sean not only a coworker, but an extraordinary nurse, a caregiver with true compassion, and I am so thankful and grateful to have been in his care."
Thank you, Sean, for going above and beyond in your care and being a great example of excellence in nursing.
Crouse News is reported by members of our Communications Team.